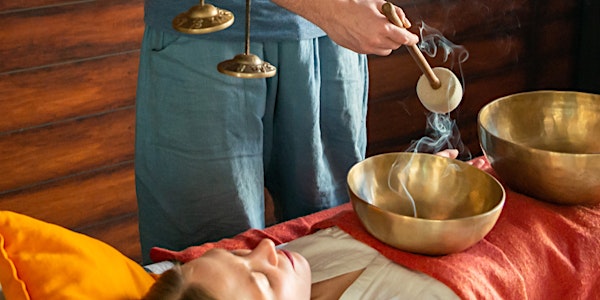 PRIVATE SOUND HEALING THERAPY
A fundamental principle of Sound Healing is that physical, emotional and mental symptoms are being generated by an underlying energy field.
Date and time
Thu, 15 Jun 2023 17:30 - 18:30 +08
Location
Mindful Space 10 Winstedt Road Block A 02-02 Singapore, 227977 Singapore
Refund Policy
Contact the organiser to request a refund.
Eventbrite's fee is nonrefundable.
About this event
When we change the energy field then the physical, emotional and mental behaviour patterns will also change.
Harmonic Sound Healing is private therapeutic sound session using power of sound vibration to eradicate stress and rejuvenate your body, mind and spirit. The session opens the doorway to self-awareness and higher consciousness. Soundscape created by overtone emitting instruments will be used on and off the body in this session to restructure our vibrations from the inside out.
Using sound therapy, we could actually slow down the chaos in whatever life situations bring us and quiet the outside world to tap into our own desires and energy.
When we immerse ourselves in sound created by overtone-emitting instruments under meditative state with specific intentions, the experience leads our mind to access stillness, our body to come into balance, and our spirit to reveal our inner truth. Sound has direct access to our vibrations quickly and can lead us away from unhealthy habitual patterns in the mind and body to higher quality vibrations of inner peace and awareness.
The experience brings wholeness and healing to our being. When this co-creative process is applied overtime, it helps us develop and strengthen our mental emotional resilience – a much needed quality for our wellbeing living in the modern world.
Regular application helps develop and strengthen your emotional-mental resilience against stressors from modern day living. Additional energy healing principles will be applied to further anchor new energy to bring wholeness in your being.
Each session is customized to attune to your specific intentions and ailments.
For more information, please visit our website:
https://harmonicspace.net/services-and-offerings/#harmonize-sound-healing
Frequently asked questions
How does Sound Healing work?
What can I expect during a Sound Healing session?
What are the benefits of Sound Healing Therapy?
Is Sound Healing Therapy suitable for everyone?
Do I need to bring or prepare anything for a Sound Healing session?
Can Sound Healing therapy be combined with other healing modalities?
Are there any contraindications or side effects of Sound Healing Therapy?
About the organiser
MY PERSONAL AWAKENING…
I experienced my first taste of yoga while working for a high stress corporate trading company where I began my training as a yoga therapist.
Through years of continuous training in the same field, it set me onto a path of questioning the nature of existence and realms of reality beyond our understanding of life.
Since then my path has evolved beyond yoga study toward more holistic healing work.
I have spent the last few years engrossed in the disciplines of Reiki Healing, Sound Healing, Yin Yoga, Yoga Therapy, Meditation and Tantra.
It is through this research that I began to identify a connective commonality between these modalities and their energetic footprint on our bodies.
The goal is to grow so strong in the inside that nothing on the outside can affect your inner wellness without your conscious permission.
I inspire to share the tools and practices I have gathered to help you find balance grounding and provide a safe space for your well being.