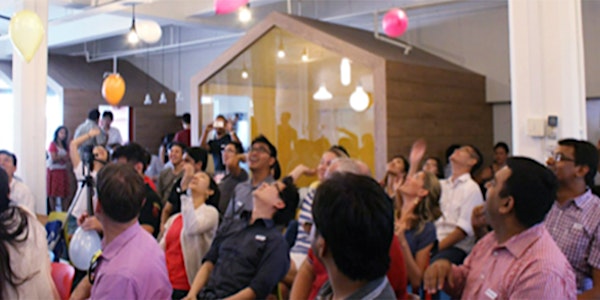 Product Camp Singapore Volume 5
When and where
Location
Autodesk Asia Pte Ltd 3 Fusionopolis Way, #10-21 Symbiosis Singapore, Singapore 138633 Singapore
Description
Product Camp Singapore Volume 5 will be held on Saturday, 27th of February 2016!
Product Camp Singapore returns this February for Volume 5!
What is Product Camp?
In the spirit of BarCamp, ProductCamp is a collaborative, user organized unconference, focused on topics related to Product Managers, Product Owners, Product Marketers, UX Professionals. At ProductCamp there are no "attendees," since everyone participates in some manner: This means you get to present, lead a roundtable discussion, share your experiences, help with logistics, help secure sponsorships, or volunteer. ProductCamp is a great opportunity for you to learn from, teach to, and network with professionals who are Product Managers, Product Owners, Product Marketers, UX Professionals, and Development process! From ProductCamp experience, it is understood that everyone has something they can teach and everyone has something they can learn.

ProductCamp Singapore is "the place" for active, novice and experienced Product Managers, Marketers and Designers to develop their craft, learn from each other, network in meaningful ways and have a lot of fun.

ProductCamp Singapore is part of a larger series of product management-related unconferences. See www.productcampsg.com to check out how to get to Singapore.
Keynote Speakers:

Steve Johnson - Product Management Expert and Author, Under 10 Consulting. Topic: Is Agile Breaking Product Management?


Dr Lee Ng - COO, Innovation Management Office leader at LumenLab | Metlife Innovation Centre. Topic: 6 key questions when building products
Breakout Session Speakers:

Sarah Baker - Director of Product Management/Marketing at McDonald's APMEA

Wen Huang - Product and Business Innovation, LumenLab | MetLife Innovation Centre & Nihao Labs

Ravi Kumar - Product Owner at Autodesk, Podcaster, Community Builder at Yours Productly

Suhas Sudhakaran - Senior User Experience Designer, ASM Assembly Systems Singapore. Topic: Synergies between Product Management and UX


Christian Teo - Design Innovation Associate at Deloitte SEA Innovation / Founder of Creative Frontiers.
Topic: Designer Meets Boardroom - Challenges, dilemmas and touchdowns of a Creative in the Corporate World

Katrina Too - PMM at TradeGecko. Topic: Customer Development, Finding Product/Market Fit, and SaaS Tips

Surbhi Marwah - Regional Manager, Zalora Group. Topic: How Mobile-First Platforms are Changing the e-Commerce Marketplace?

Adrian Lander - Senior Enterprise Agile Transformation Coach, Barclays

Siti Aishah Zahari - Cofounder of The Orange Hive and UX strategy at Trabble.co. Topic: Applying Design Thinking in Early-Stage Product Building


Evgeny Lazarenko - Product Manager at TradeGecko. Topic: Breaking into Product Management

Varun Mittal - Group Head, HelloPay, Lazada. Topic: Let API's Do the Talking, Focus on Product


Souad-Marie Assaad - Product Manager, See Chic. Topic: Personalisation, the Game Changing Technology for e-Commerce
(And more!)

Update 1 : Please show your ticket and ID at the 1st Floor Lobby of the Symbiosis Building and proceed to the 10th Floor.

Update 2 (FEB 26)
Short & Sweet
Date & Time:

27 Feb, 9 am to 3 pm

Venue: Autodesk, Symbiosis Building, Fusionopolis at one north MRT
Take Exit C at one north MRT & take escalators to Level 1
The symbiosis entrance is to the left of PastaMania
Show Photo ID at Info Desk. Go up to Level 10 to Autodesk
If lost, call Ravi at 96469995
The Scenic Route
Date and start time:

Saturday, 27 February, 2016

Registrations:

9:00 am

Event begins:

9:15 am

Event ends:

3.00 pm

Location: Autodesk Asia Pte Ltd, 3 Fusionopolis Way, #10-21 Symbiosis, Singapore 138633
Please show your Photo ID at the Info Desk of the Symbiosis Building. Your name will be on a list at the Info Desk. Then take the lift to Level 10.
Public Transport:
Closest MRT: one north
Closest Bus Stop: Ayer Rajah Avenue, Opp JVC Electronics, Bus Stop No. B18051
Closest Car Park: Underground Fusionopolis, ($0.50 per 30 minutes from

6 am to 6 pm

)
Directions from one north MRT:
After aligting at one north MRT, take the escalator up to Exit C to B2.
At B2, take the escalator directly in front of Exit C's Ticket Gantry to B1.
At B1, take the next escalator to your right to Level 1.
At Level 1, you will see PastaMania (#01-21) in front of you after alighting the escalator.
To the left of PastaMania, you will see the "symbiosis" entry way.
Enter it and you'll get to the Info Desk to show your Photo ID.
Take the lift to Level 10 to the Autodesk office and ProdCamp SG Vol 5!
Additional details:
Dress code: Just dress comfortably. The place is air conditioned so jeans are great, smart casual also cool.
Our agenda will largely be determined by you, the participants.
ProductCamp is about meeting people so bring plenty of business cards.
Please reach the venue on time, i.e

9:00

to

9.15 am

.
Lunch will be provided at

1pm

.
Social Media:
Twitter is a big part of ProductCamp. The twitter handle for the event is @ProductCampSG.
Live tweet your experiences and use the hashtag #pcampsg
We are pleased and delighted to welcome you among our participants. Since this is an unconference, the success of the event depends upon your participation and enthusiasm. So, bring along loads of enthusiasm.
For any further enquiries, call Ravi at 96469995.