PRODUCT COSTS AND PRICING DECISIONS
There is no one right product costing approach which depends on what kind of management decisions you are about to make on the product
About this event
One day course on product costing and pricing decisions which CEOs, marketing managers , accountants and entrepreneurs should know.
No two companies use identical resources in exactly the same way to make the same products.
CONTENTS
What is a product: tangible and services
Direct vs indirect costs
How to allocate overhead costs to products
The advantages of marginal costings
Make or buy decisions
Minimum order quantities
Below the line costs
Allocate overhead costs based on cost centers
Basis of apportioning and Method of absorption
Standard costs
Pricing Strategies
Cost volume profit analysis
How to optimize prices.
Cost reduction strategies
Product pricing profile.
Product costs and pricing are two key and critical decisions in business. Understand the mechanics to ensure your business sustainability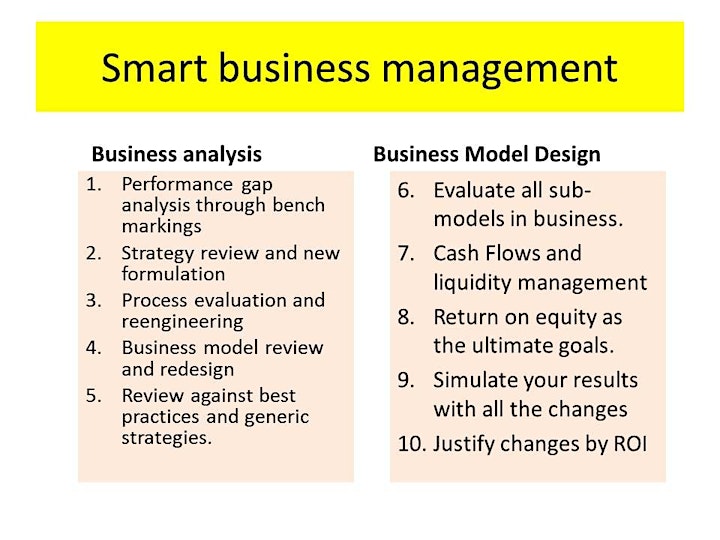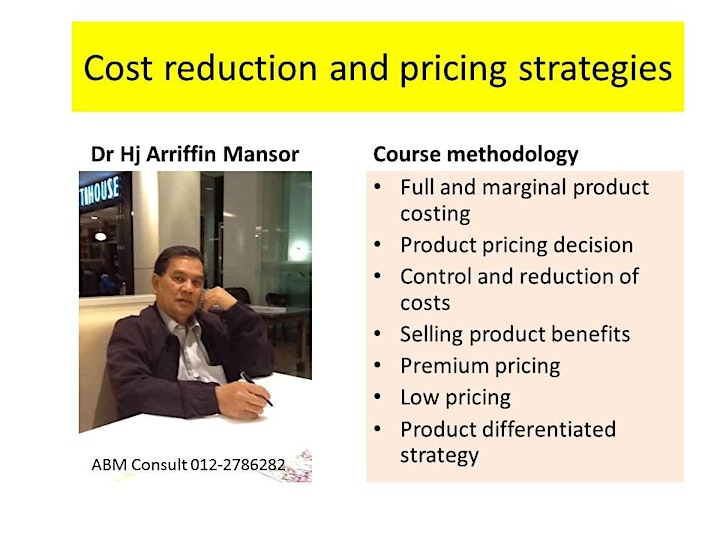 TRAINING BENEFITS
How product is costed and controlled in business.
How costs influence decisions on products development and pricing.
Shows cost reduction strategies.
Shows the right pricing based on the right product costs
There is no one right product costs.
The right product profile in the business competitive environment.
Organizer of PRODUCT COSTS AND PRICING DECISIONS
Tel/ Fax 03-28571840
ABM Consult : A consultancy and training firm specialzing in business and finance.
The managing partner, Arriffin Mansor, a registered trainer in HRDF has an accountancy and finance background in Multinational and public listed companies.
He has trained hundreds of executives and managers in finance while in Inchcape and Telekom Malaysia.
He has lectured many batches of MBA graduates in finance and entrepreneurship. Most of these programs are in Excel College.
In his early years he was given contracts to trained hundereds of ex-servicemen plus would be entrepreneurs under the MARA schemes.
He has an office in Wisma Indah, Jalan Tun Razak, 50400 KL running secretarial and accounting services.
Mobile Tel 012-2786282
Tel/Fax 03-28571840
arriffin@gmail.com