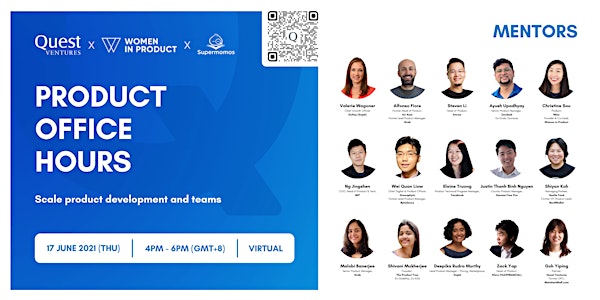 Product Office Hours 2021
A first of its kind panel and mentorship sessions which aim to help startup product teams scale product development and teams as they grow.
About this event
Quest Ventures proudly presents Product Office Hours.
Startups often face issues with scaling product development efforts and teams as they grow. This problem is accentuated when the companies just raised a new round of funding and are looking to rapidly expand their product. At the same time, Southeast Asia, home to 17 unicorns and an increasing number of tech giants, have seen an influx of senior product managers relocating to the region. In partnership with Women in Tech and Supermomos, Quest Ventures aims to close this gap and help grow our product management ecosystem.
During the panel we will be discussing topics such as
Should product teams be standalone or embedded into BUs?
How to prioritise different product requests?
How to manage remote product teams?
Suitable Participants
This event is suitable for product management teams and founders from early to growth stage startups looking to nail and scale product management and resolve product concerns.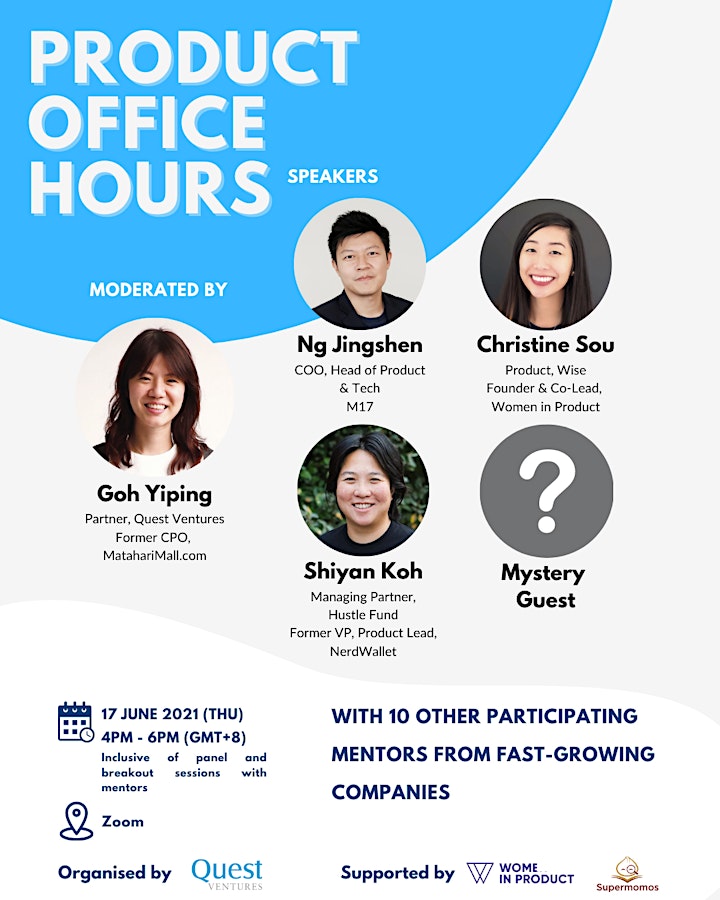 Panellists
Goh Yiping - Partner, Quest Ventures; Former Co-founder and CPO, MatahariMall.com; Former Co-founder and CEO, All Deals Asia
Shiyan Koh - Managing Partner, Hustle Fund; Former VP and Product Lead, NerdWallet
Christine Sou - Group Product Manager for Pacific region, Wise; Founder, Women in Product
Ng Jingshen - COO and Head of Product & Tech, M17
Mentors
Mentors for the breakout session include:
Shivani Mukherjee - Ex-GrabPay; Ex-N26; Founder of The Product Tree
Valerie Wagoner - Chief Growth Officer, GoPay (GoJek); Executive in Residence, Reforge
Elaine Truong - Product Technical Program Manager, Facebook
Steven Li - Head of Product, Atome
Zack Yap - Head of Product, Xfers (FAZZ Financial Group)
Justin Thanh Binh Nguyen - Country Product Manager, Garena (Sea)
Deepika Rudra Murthy - Lead Product Manager - Pricing, Marketplace, Gojek
Alfonso Fiore - Head of Product, Air Asia; Former Lead Product Manager, Grab
Wei Quan Liow - Chief Digital & Product Officer, Greenphyto; Former Lead Product Manager, Bytedance
Ayush Upadhyay - Senior Product Manager, Zendesk; Ex-Grab, Zoomcar
Malobi Banerjee - Senior Product Manager, Grab
Nan - Product Lead, Fast Growing Ecommerce Group