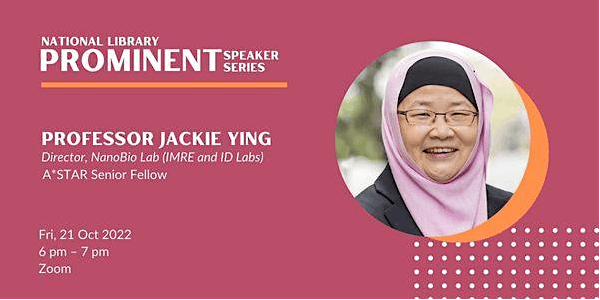 Professor Jackie Ying | Prominent Speaker Series
Nanotechnology – Research and Commercialisation
About this event
Nanotechnology has emerged as an exciting frontier in science, engineering and medicine. It presents a new way of creating and controlling nanometer-sized features in materials and devices, thereby opening new possibilities to harness size-dependent properties in an unprecedented manner. Nanotechnology is being rapidly developed and adopted by various industries to create the latest products and technologies that offer major advantages over the conventional systems. It has made major breakthroughs and impacts in the chemical, energy, electronic, biotechnology, medical, personal care, food and nutritional industries.
This seminar describes the design and synthesis/fabrication of nanostructured materials and devices for specific applications in drug delivery systems, energy storage, catalysis and medical diagnostics, and their commercialization through working with spin-offs and multinational companies.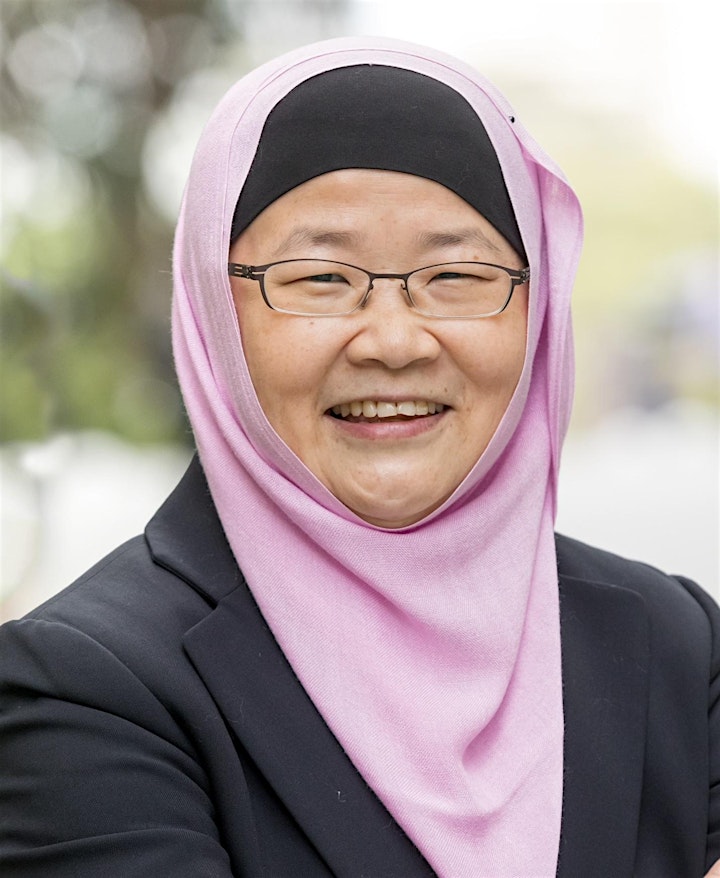 About the Speaker
Professor Jackie Y. Ying made her mark as one of the university's youngest full Professors at 35, and could have continued her stellar career at the Massachusetts Institute of Technology, where she had already been teaching for more than a decade. Nevertheless, in 2003, she returned to Singapore to help start the Institute of Bioengineering and Nanotechnology (IBN), one of the key research institutions set up by the government to fulfil Singapore's ambitions in biomedical sciences as a new pillar of the economy. Since then, Prof. Ying, who earned her doctorate in chemical engineering from Princeton, has been with A*STAR as the executive director of IBN (2003-2018) and director of Nano Bio Lab (2018-present).
Prof. Ying has more than 190 primary patents granted or pending and over 380 papers published. For her research on nanostructured materials and bioengineering, she has been recognized with the American Ceramic Society Ross C. Purdy Award, David and Lucile Packard Fellowship, Office of Naval Research Young Investigator Award, National Science Foundation Young Investigator Award, Camille Dreyfus Teacher-Scholar Award, American Chemical Society Faculty Fellowship Award in Solid-State Chemistry, Technology Review's Inaugural TR100 Young Innovator Award, American Institute of Chemical Engineers (AIChE) Allan P. Colburn Award, International Union of Biochemistry and Molecular Biology Jubilee Medal, Academy of Sciences of Iran Medal of Honour, Islamic World Academy of Sciences-COMSTECH Ibrahim Memorial Award, Clarivate Analytics Highly Cited Researcher, Turkish Academy of Sciences (TÜBA) Academy Prize in Science and Engineering Sciences, and Journal of Drug Targeting's Lifetime Achievement Award.
Prof. Ying is an elected Member of the German National Academy of Sciences - Leopoldina, TÜBA, and U.S. National Academy of Engineering. She is a Fellow of Materials Research Society, Royal Society of Chemistry, American Institute for Medical and Biological Engineering, American Association for the Advancement of Science, Singapore National Academy of Science, Islamic World Academy of Sciences, and U.S. National Academy of Inventors. She was selected by The Muslim 500 in 2012, 2013, 2014, 2015, 2016, 2017, 2018, 2019, 2020, 2021 and 2022 as one of the world's 500 most influential Muslims.
Prof. Ying was elected a World Economic Forum Young Global Leader. She was named one of the eight women in a list of "One Hundred Engineers of the Modern Era" by AIChE in its Centennial Celebration. She was an Inaugural Inductee for the Singapore Women's Hall of Fame. She was the inaugural winner of the Mustafa Prize "Top Scientific Achievement Award" in 2015 for her research in bio-nanotechnology. She was the Founding Editor-in-Chief of Nano Today. She serves on the Board of Trustees of Princeton University.