Project HOPE: Make a mosaic mural with Bright Vision Hospital community

Monday, 5 May 2014 at 13:00

-

Thursday, 31 July 2014 at 21:00 (Singapore Standard Time Singapore Time)
Event Details
Under Project HOPE, there will be more than 20 creative workshops

led by MosaicJam open to the hospital community and general public.

Participants will learn clay modelling, glazing, mosaic setting and grouting, if they sign up for the appropriate sessions/groups. 

Volunteers and participants will contribute to the project with different levels of involvement at different phases, over a period of 12 weeks.


The project is seeking participants and volunteers to come join in the fun of creation. It is open to all who want to come forward and join the community.


The team will collect views from community partners, including BVH's patients, employees and key volunteers to develop the design and concept of the mural.




Students and volunteers will interview patients for their stories, and then translate these stories into meaningful texts and images. The stories are then incorporated into the mosaic by the participants in the form of ceramic tiles.

There will also be a 'Leaf-of-Hope' campaign, where members of the public will be invited to carve out and decorate hundreds of leaves in clay.


The final result will be a large mosaic mural titled «Seeds of Hope », collectively created by the community, which will be installed at the hospital.

For detailed schedule of the entire project, please click here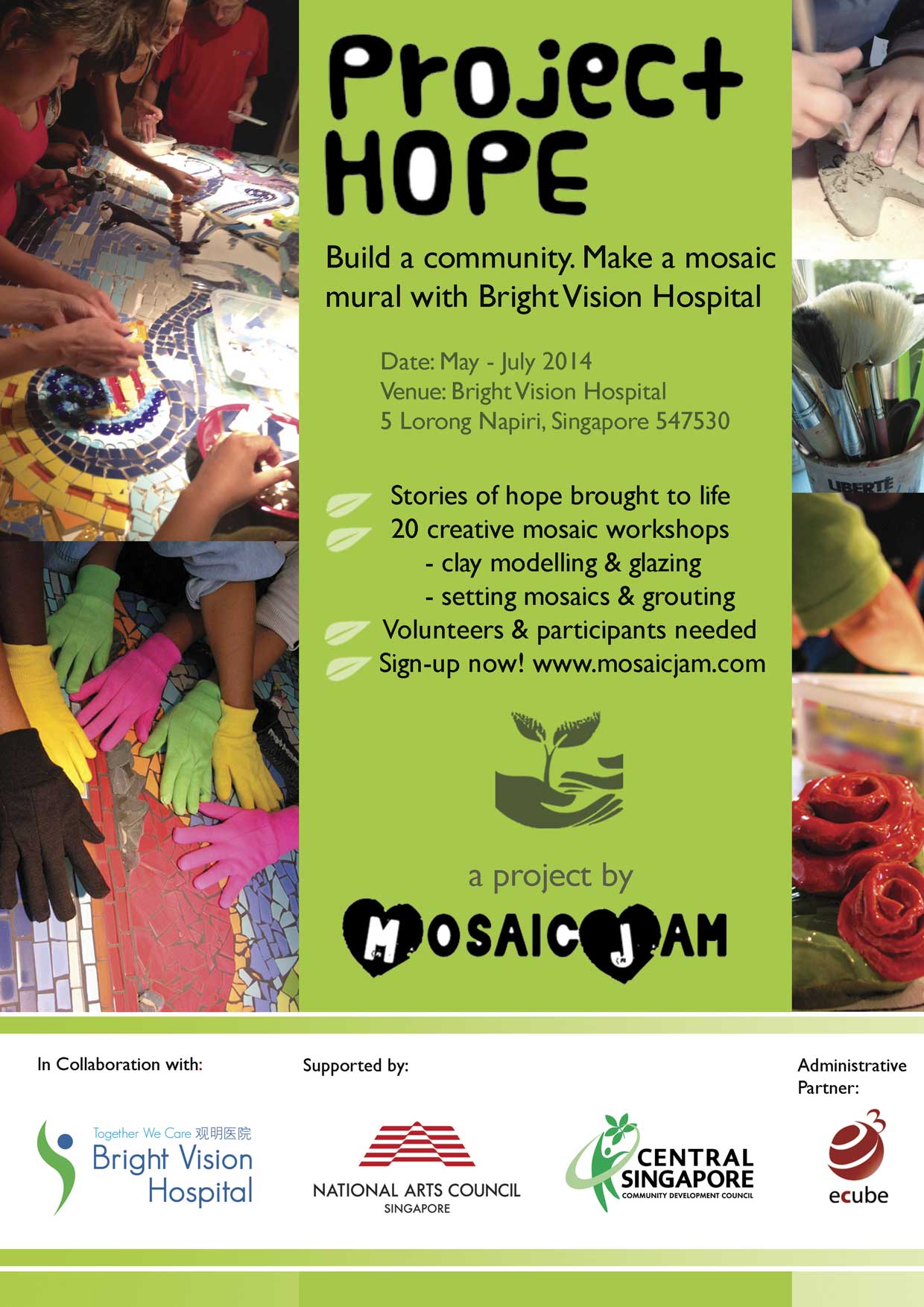 PROJECT HOPE schedule
 
 
 
 
No.
Stages
Date
No. hrs/person
No. ppl
Venue
Group
 
Week 1
 
 
 
 
 
Session 1
 Introduction to project, examples, brainstorming, concept development
05/05/2014
Monday
3hrs (1:30pm - 4:30pm)
10
BVH Yen Pei Hall
Tier 1 - Core group (A)
Employees and key stakeholder of BVH & regular volunteers
Extra session
Project HOPE Campaign @ Kampong Glam CC (CS CDC)
10/5/2014
Saturday
3hrs (9:30am - 12.30pm)
25
Kampong Glam CC
Tier 3 - General Public + Open group (D)
 
Week 2
 
 
 
 
 
Session 2
Symbols, research, exploration and drawing
12/05/2014
Monday
3hrs (1:30pm - 4:30pm)
15
BVH Yen Pei Hall
Tier 2 - Open group (B)
Regular volunteers and patients
Session 3
Symbols, research, exploration and drawing
(in collaboration with school/students)
15/05/2014
Thursday
3hrs (1:30pm - 4:30pm)
25
BVH Yen Pei Hall
Tier 2 - School Group (C) 
Session 4
Symbols, research, exploration and drawing
17/05/2014
Saturday
3hrs (10:00am - 1:00pm)
15
BVH Yen Pei Hall
Tier 2 - Open group (D)
Regular volunteers 
Session 5
 Leaf-of-Hope Campaign (TBC)
18/05/2014
Sunday
(7:30am - 11:00am)
50
Hort Park
Tier 3 - General Public + Open group (D)
 
Week 3
 
 
 
 
 
Session 6
Clay modelling, techniques & demonstration
19/05/2014
Monday
3hrs (1:30pm - 4:30pm)
10
BVH Yen Pei Hall
Tier 1 - Core group (A)
Employees and key stakeholder of BVH & regular volunteers
Session 6
Clay modelling, techniques & demonstration
19/05/2014
Monday
3hrs (1:30pm - 4:30pm)
15
BVH Yen Pei Hall
Tier 2- Open (B)
Regular volunteers and patients
Session 7
Clay modelling, techniques & demonstration
21/05/2014
Wednesday
3hrs (1:30pm - 4:30pm)
25
BVH Yen Pei Hall
Tier 2- Corporate volunteers (F)
Session 8
 Clay modelling, techniques & demonstration
24/05/2014
Saturday
3hrs (10:00am - 1:00pm)
15
BVH Yen Pei Hall
Tier 2 - Open group (D)
Regular volunteers 
Session 9
Clay modelling, techniques & demonstration
(in collaboration w CS CDC)
24/05/2014
Saturday
1.5 hours (3.30pm - 5pm)
20
CS CDC - Toa Payoh
Tier 2 - Community (E)
 
Week 4
 
 
 
 
 
 
Drying & Firing (entire week of 26/05/2014)
 
 
 
 
 
Session 10
Colors and glazing, techniques and demonstration
29/05/2014
Thursday
3hrs (1:30pm - 4:30pm)
25
BVH Yen Pei Hall
Tier 2 - School Group (C) 
 
Week 5
 
 
 
 
 
Session 11
Colors and glazing, techniques and demonstration
02/06/2014
Monday
3hrs (1:30pm - 4:30pm)
10
BVH Yen Pei Hall
Tier 1 - Core group (A)
Employees and key stakeholder of BVH & regular volunteers
Session 12
Colors and glazing, techniques and demonstration
03/06/2014
Tuesday
3hrs (1:30pm - 4:30pm)
15
BVH Yen Pei Hall
Tier 2- Open (B)
Regular volunteers and patients
Session 13
Colors and glazing, techniques and demonstration
(in collaboration w CS CDC)
07/06/2014
Saturday
1.5 hours (3.30pm - 5pm)
20
CS CDC - Toa Payoh
Tier 2 - Community (E)
Session 14
 Leaf-of-Hope Campaign (TBC)
07/06/2014
Saturday
3hrs (10:00am - 3:00pm)
50
TBC
Tier 3 - General Public + Open group (D)
 
Week 6
 
 
 
 
 
 
Drying & Firing; Mosaic substrate ready (week of 9/6/2014)
 
 
 
 
 
 
Week 7
 
 
 
 
 
Session 15
Mosaic Setting (outline & prep)
16/06/2014
Monday
3hrs (1:30pm - 4:30pm)
10
BVH Yen Pei Hall
Tier 1 - Core group (A)
Employees and key stakeholder of BVH & regular volunteers
Session 16
Mosaic Setting (outline & prep)
17/06/2014
Tuesday
3hrs (1:30pm - 4:30pm)
15
BVH Yen Pei Hall
Tier 2 - Open (B)
Volunteers and patients of BVH
Session 17
Mosaic Setting
18/06/2014
Wednesday
3hrs (1:30pm - 4:30pm)
25
BVH Yen Pei Hall
Tier 2- Corporate volunteers (J)
Session 18
Mosaic Setting
21/06/2014
Saturday
3hrs (10:00am - 1:00pm)
25
BVH Yen Pei Hall
Tier 3 - Open group (G)
 
Week 8
 
 
 
 
 
Session 19
Mosaic Setting
23/06/2014
Monday
3hrs (1:30pm - 4:30pm)
20
BVH Yen Pei Hall
Tier 1 - Core group (A)
Employees and key stakeholder of BVH & regular volunteers
Session 20
Mosaic Setting
24/06/2014
Tuesday
3hrs (1:30pm - 4:30pm)
15
BVH Yen Pei Hall
Tier 2 - Open (B)
Volunteers and patients of BVH
Session 21
Mosaic Setting
25/06/2014
Wednesday
3hrs (1:30pm - 4:30pm)
25
BVH Yen Pei Hall
Tier 2- Corporate volunteers (K)
Session 22
Mosaic Setting
28/06/2014
Saturday
3hrs (10am - 1pm)
25
BVH Yen Pei Hall
Tier 3 - Open (G)
 
 
 
 
 
 
 
 
Week 9
 
 
 
 
 
Session 23
Grouting
04/7/2014
Friday
3hrs (10am - 1pm)
25
BVH Atrium
Tier 3 - Open (H)
Session 24
Grouting
5/7/2014
Saturday
3hrs (10am - 1pm)
25
BVH Atrium
Tier 3 - Open (H)
 
 
 
 
 
 
 
 
 
 
 
 
 
 
 
Week 10
 
 
 
 
 
Session 25
Public Launch of Mural & Community Party
From
To
 
BVH
 
 
(dates to be set)
12/7/2014
Saturday
30/7/2014
Wednesday
 
 
 
When & Where

Bright Vision Hospital
5 Lorong Napiri
(at Yen Pei Hall, Level 1)
Singapore, 547530
Singapore

Monday, 5 May 2014 at 13:00

-

Thursday, 31 July 2014 at 21:00 (Singapore Standard Time Singapore Time)
Add to my calendar
Organiser
Bright Vision Hospital

Bright Vision Hospital (BVH) is a 318-bed community hospital serving an estimated number of 1000 patients annually. The patients are mainly elderly and needy who require rehabilitation, long-term medical care and financial assistance.
Over the years, community partners have come together to help and support BVH in many meaningful ways. This year, BVH welcomes community mosaic artist, Ms Lisan Chng to lead the fabrication of a community mosaic mural for the hospital under Project HOPE.
MosaicJam

MosaicJam is a social art enterprise that is dedicated to the creation of intercultural and intergenerational mosaic and community building. Mosaic artist, Lisan Chng, founder of MosaicJam, believes in the power of the creative process. Creating art is a way of connecting with oneself and with others. In MosaicJam projects, everyone will have their own creative space to express themselves and their culture. Mosaic creation allows the celebration of one's roots and one's uniqueness. It also finds harmony in diversity. It's a 'Jam' because this creative space that MosaicJam creates brings people together. In the creation of art collectively, it's like playing music. One has to listen to the other to find the ultimate harmony.