Straits Financial and China Zhengzhou Commodities Exchange will jointly organize a webinar of PTA Market Outlook and Industrial Chain.
About this event
We cordially invite you to participate in an upcoming educational webinar jointly hosted by Straits Financial (Singapore) and China Zhengzhou Commodities Exchange (CZCE). Join this webinar to hear industry specialists, economists and experts from Straits Financial, China Zhengzhou Commodities Exchange (CZCE) and Wood Mackenzie to talk about PTA market outlook, industrial chain, trading strategies and price protection on the product.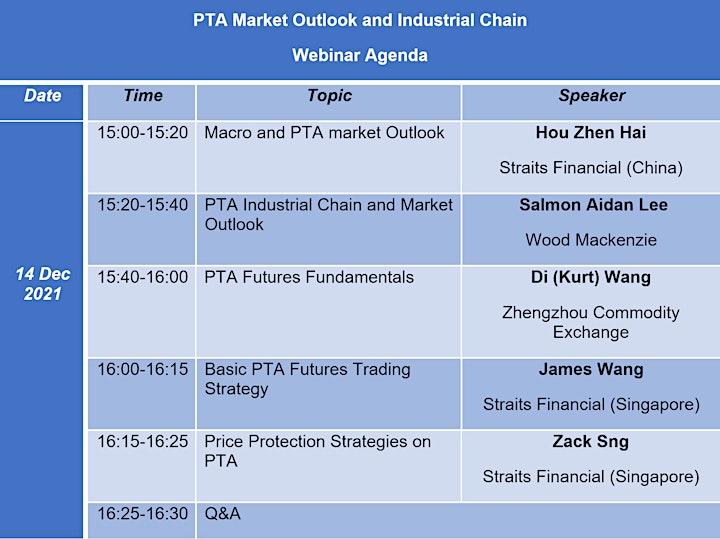 Speakers
Hou Zhen Hai
Chief Strategist, Straits Financial (China)
1998 – 2004, Chief Representative Assistant of GKN Group in China.
2006, obtained MBA degree from Wisconsin School of Business at University of Wisconsin–Madison.
2006 – 2007, served at the Wisconsin Foundation.
August 2007 – July 2013, served at China International Capital Corporation (CICC) as the leader of the overseas strategy team and A-share strategy team. He is also the main report writer and contributor. Mr. Hou and his team received many honors including the top team for the New Fortune Sell-side Strategy Research in 2008, and the top team for the Asia Money China Strategy Research in Hong Kong in 2009 and 2012, etc.
September 2013 – December 2019, served at Discovering Group and was responsible for the Group's macro strategy research. During the period, the company has accumulated absolute returns that far exceed the market level.
Salmon Aidan Lee
Head of Polyesters, Wood Mackenzie
Salmon Aidan Lee leads Wood Mackenzie Chemicals' research into the polyester chain, focusing on the synergy between the raw materials and the downstream products including fibres, and bottle and film-grade PET resins.
While watching broadly the whole polyester chain from paraxylene to downstream sectors, Salmon maintains a strong interest in the PTA and MEG markets of the Chinese-speaking world, which he believes forms the core of this chain.
Since 2020, Salmon has extended his coverage into the recycled fibres sphere, relating it to the global sustainability effort and its impact on the virgin polyester markets.
He joined PCI Xylenes and Polyester China Limited in October 2009. Previously, he had spent nine years covering chemical markets at chemical news and price reporting service ICIS, where he was in charge of the global price benchmarks for PTA and MEG; two years earlier, he was with the Singapore Ministry of Foreign Affairs as a diplomat. In 2003 and 2008, Salmon had working stints respectively at China's Yizheng Chemical Fiber Co, and Sinochem Trading (Singapore).
Salmon was educated in Singapore and France; he is fluent in English, Mandarin and several other languages, as well as seven Chinese dialects.
Di (Kurt) Wang
Manager, Zhengzhou Commodity Exchange
Kurt Wang is the manager of Zhengzhou Commodity Exchange (ZCE) based in Singapore, focusing on the marketing of ZCE's internationalized products, exploring cooperation opportunities, and researching the commodity market in SEA.
Prior to joining the Singapore Team, Kurt was involved in the research and development of ZCE's white sugar and cotton options. 
James Wang
VP, Futures & Options, Straits Financial Group
James Wang is currently the VP at Straits Financial. He comes with 16 years experience in the commodity markets. Before joining Straits Financial, he worked for a variety of financial institutions, most notably HKEX/LME, Societe Generale, Mizuho Corporate Bank and China International Capital Corporation. His working experience includes being a marketing rep with HKEX/LME. Marketer with investment banks, focusing on commodity derivatives sales in Great China. He has also been a business development manager in charge of China market for several well-known FCMs in Singapore.
Zack Sng
Regional Manager, Straits Financial Group
Zack is the Regional Manager with Straits Financial with over 5 years of experience in the Chinese markets.
Prior to joining Straits, Zack has lead teams within asset management and commodity trade financing sectors covering both China and Singapore markets.
About Straits Financial
Straits Financial Group is a financial brokerage house that provides access to commodities, exchange-traded OTC, forex and the financial derivative markets for all your trading needs. You are supported by an experienced dealing team 24/5 based out from Singapore and inter-dealer brokerage services for trade execution. We also offer OTC-structured products to meet the unique and sophisticated requirements of each client. This is also complemented with trade financing services catered for clients transacting or holding physical commodities, offering a unique blend of integrated services under the Straits' brand.
At Straits Financial Services, we have a strong presence and understanding of the Asian markets, bringing forth localized perspectives with global access. We are headquartered in Singapore, and have offices in United States, China, Indonesia and Dubai. Since establishment in 2010, Straits Financial has quickly gained market recognition and established a strong foothold in the markets we operate in.