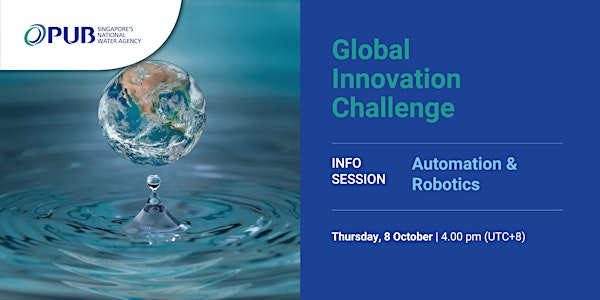 PUB Global Innovation Challenge: Info Session 2: Automation & Robotics
This info session will introduce participants to the PUB Global Innovation Challenge and three of its six challenge statements.
About this event
PUB, Singapore's National Water Agency, is in constant pursuit of great ideas to transform into a Smart Utility of the Future. The PUB Global Innovation Challenge seeks to accelerate PUB's discovery and adoption of digital solutions and smart technologies to improve operational excellence and meet future water needs. PUB invites companies, researchers, and innovators from all around the world to propose solutions to their challenges.
Selected applicants of the PUB Global Innovation Challenge will be given the opportunity to validate their ideas and find the product-market fit in the water industry. PUB is excited to partner innovators to co-create innovative water solutions, and provide support for the development, deployment and adoption of these solutions.
This Info Session serves as a primer for prospective participants. We will explore the following three of six challenge statements covered under the PUB Global Innovation Challenge:
1. Evaluation of Earth Control Measures Submission Drawings
2. Robotics for Water Tank Cleaning
3. Automated Identification and Enumeration of Midge Populations
To learn more about the remaining challenges, check out Info Session 1: Sensors & Monitoring Systems, happening on Tuesday, 6 October.