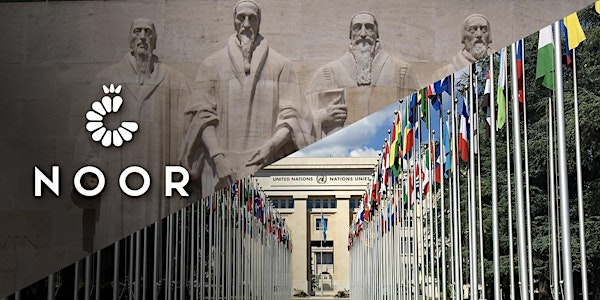 Public launch of NOOR | Lancement publique de NOOR
The impact and Legacy of the Reformation in Global Humanitarian Efforts
About this event
version française ci-dessous
Join us for the virtual launch of NOOR and our very first panel discussing the Reformation and its legacy on global humanitarian efforts.
Dr Sébastien Heiniger will be hosting Professor Michel Grandjean from the University of Geneva, a UN director and diplomat Alex Mejia and John Dawson the president of Youth With A Mission.
Together they will explore the incredible impact the major Christian reformers had on shaping and fostering how we still approach humanitarian efforts today.
Have a look at the video invitation from Alex Mejia below.
The event will be broadcasted live in English and French.

Rejoignez-nous pour le lancement publique de NOOR et notre tout premier panel de discussion qui a pour sujet la Réforme et son héritage sur l'aide humanitaire mondiale.
Dr Sébastien Heiniger accueillera le professeur Michel Grandjean de l'Université de Genève, un directeur des Nations unies et diplomate, Alex Mejia, et John Dawson, le président de Jeunesse en Mission.
Ensemble, ils exploreront l'impact incroyable que les grands réformateurs chrétiens ont eu sur la façon dont nous abordons aujourd'hui encore les efforts humanitaires.
Regardez l'invitation vidéo d'Alex Mejia ci-dessous (audio en anglais avec sous-titres français).
L'événement sera diffusé en direct en anglais et en français.