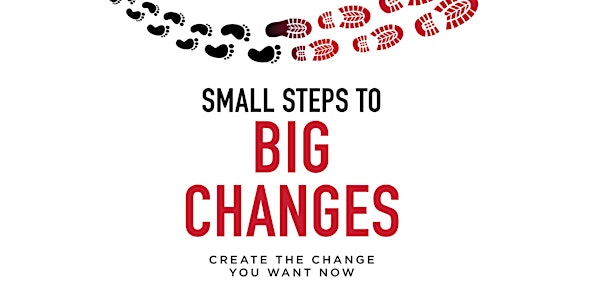 Public Run: Small Steps To Big Changes
Lead change, co-create fast ways forward and effective solutions with your team and for yourself.
Refund Policy
Contact the organiser to request a refund.
About this event
Imagine what will happen if people in your organisation became solution-focused in their conversations and thinking patterns, instead of being stuck in problems? What if they were to focus on possibilities, rather than obstacles? What if colleagues consistently worked on how to take small steps forward and not get overwhelmed?
This approach leverages on the positive drivers that initiate change by focusing on positive goal orientation and what is already working well. Small Steps To Big Changes® has transformed many people to be more engaged at work and take quick action steps to create more success for themselves. It develops possibility thinking and helps others move quickly towards it.
If you are a manager and want to:
- Create optimistic change and develop empowering conversations.
- Shift team members to be solutions-driven, rather than problem-focused.
- Improve engagement and ownership of problems.
If you are an individual and want to:
- Learn tools to move from problem thinking and into solutions thinking
- Facilitate useful change even though you are not the leader.
- Generate personal optimism and find ways to deliver more value to the organisation.
Key Takeaways:
Lead successful change in an ever-changing business environment,
Create more wins for yourself and the team,
Explore possibilities and quick action steps towards the outcome,
And more for Managers and Leaders!
This is a highly practical program which helps you to achieve the specific goals you want. You will walk away with action steps that can be implemented within 4 weeks.
Duration: Individuals (1 Day) | Managers and Leaders (2 Days)
Day 1: 15 December 2020
Day 2: 21 December 2020
Time: 10AM to 6PM, Singapore Time
Virtual Platform: Zoom
Training Materials will be provided and mailed to participants residing in Singapore.
PROGRAM OUTLINE
Day 1
Module 1: Moving from problem talk to solution talk
Module 2: Creating best outcomes and taking small steps forward
Module 3: Finding what works and how to replicate success
Day 2 (For Managers and Leaders)
Module 4: Understanding motivations and solution focused leadership
Module 5: Solution-Focused applications in the workplace
Practical Application
Check-In to be done 1 month after training (for Managers and Leaders)
All participants who complete all the modules will receive an e-Certificate of Participation.
Managers and Leaders Participants will receive a hardcopy of the "Small Steps To Big Changes" Book.
For overseas participants, ebook will be arranged to be sent without additional cost. If hardcopy is preferred, prevailing shipping charges will be applied.
Notes on Registration Form
1. Please enter your First Name + Last Name format for the printing of e-certificate.
2. Mobile numbers will help us to assist you on tech issues if it happens on that day.
3. Mailing address is necessary for us to mail the hardcopy of the book to you.
For direct invoicing to company, please reach out to us directly.
For PayNow users, you may pay to UEN: 200703016K. Please enter "SSTBC-Individuals" or "SSTBC-Managers" accordingly in the comments.