Multiple Dates
Python Programming Certification Course Singapore - Beginners Python Progra
Gain basic to advanced programming skills in our Python Programming Course Singapore to learn the speed and extensibility of this language.
About this event
The Python training course provides essential knowledge & skills to use computational thinking and create simple Python programs yourself.
What you will learn with Python Programming Certification Course Singapore- You will learn to think like a programmer, understand the software development process, and begin to write programs with the easiest language to learn – Python.
Learning Outcome
Appraise the usage of different data types and operations available in Python
Design logic and program flow using control sequences
Assemble and use available Python modules for rapid prototyping and development
Propose implementation strategies for a business problem in Python
Create appropriate documentation for source code management and apply best coding practices to construct technical specifications in Python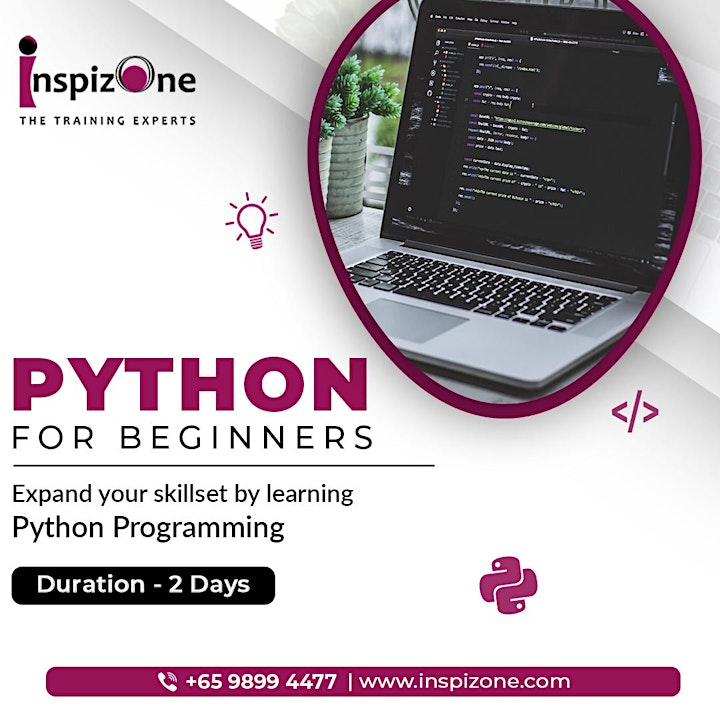 Organiser of Python Programming Certification Course Singapore - Beginners Python Progra
Inspizone is an exclusive professional Training Provider specialing in Training and Human Capital Development, for both management and technical skills. Specifically, Inspizone offers training and learning lab for Office Productivity, IT Course, Project Management, Creative Suite and Finance Courses.
We train with hands-on exercises where participants gain confidence over complicated tasks in order to solve problem and automate daily tasks on their work lives. Training is specifically aiming at increasing the productivity, performance and profitability of the manufacturing, transport, banking, trading, hospitality, oil & gas, insurance, banking, property and services related businesses and organizations.