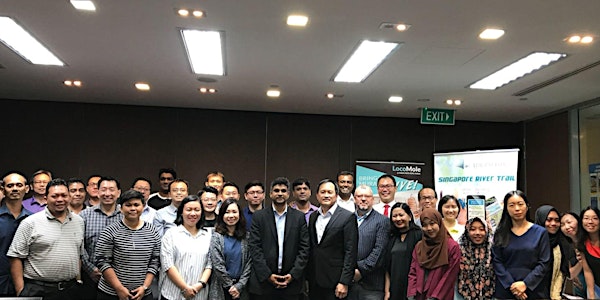 Python Programming Essentials - Onsite @ Singapore
Learn how to leverage on Python's extensive libraries and resources to solve real cases and problems through extensive practical / hands-on
Date and time
December 20 · 9:30am - December 22 · 5:30pm +08
Location
CASUGOL 1 Fullerton Road #02-01 Singapore, 049213 Singapore
Refund Policy
Contact the organizer to request a refund.
About this event
2 days 8 hours

Mobile eTicket
For more information: www.casugol.com/ppe
International Acclaimed Certification. 5-Star Reviews
Suitable for everyone. Learn in an Interactive, Supportive, and Encouraging Environment.
Duration: 3-Day (Onsite) / 18 Hours (Online via Zoom)
Certification: Participants will receive a Certificate of Competency upon successfully completing the course and passing the examination
Who Should Attend: Anyone interested in acquiring knowledge and skills on Python Programming
Course Objective
Acquire the essential knowledge and skills required to start developing projects and applications using Python Programming.
Learn how to leverage on Python's extensive libraries and resources to solve real cases and problems through extensive practical / hands-on sessions.
Pre-Requisite
No Pre-requisite. Python Programming Essentials (PPE) is suitable for everyone.
Examination
Participants are required to attempt an examination upon completion of course and skills related to Python Programming based on the syllabus covered
Participants are expected to score a minimum of 70% to pass the examination
Module 1 Introduction to Python Programming
What is Python Programming?
Setup & Installation
Understanding the Structure of Python Script with First Python Program
Basic Variables: Numbers, Integers, Floats, Strings
Strings Formatting in Python
If, Else If, and Else Statements
Break and Continue Statements
For and While Loops
Lists & Dictionaries
Module 2 Functions, Classes and Objects in Python
Built-in Functions in Python
Creating User Define Functions in Python
Defining Classes in Python
Creating Objects and Instances
Object-Oriented Programming
Understanding Constructors
What is Inheritance
Module 3 Modules and Libraries in Python
Introduction to Modules in Python
Creating Modules in Python
Importing Modules in Python
Built-in Modules in Python
Working with Math Module in Python
Drawing Graphics using Turtle Module in Python
Module 4 File-Handling and Handling Errors in Python
Introduction to File-Handling in Python
Creating a Text & Excel File
Writing Content to File
Appending Content to File
Renaming, Opening and Saving Files
Introduction to Errors and Exceptions in Python
Types of Errors
Error Handling in Python
Try and Except Keywords to Handle Errors
Module 5 Working With Popular Built-in Modules in Python
Introduction to NumPy Module
Simple Data Analytics Process using Pandas Module
Basic Visualization using Matplotlib Module
Using tkinter module to Create GUI
Creating a Simple Game using pygame module
Python Programming Essentials (PPE) involves extensive hands-on exercises / practical, rigorous usage of real-time case studies, hands-on exercises and group discussion
About the organizer
"The duty of helping one's self in the highest sense involves helping of one's neighbours" – Samuel Smiles
CASUGOL is an international certification body offering a wide-range of professional training and certification programs designed for all industries and verticals.
Participants attending our programs will develop the skills and knowledge in their chosen area of professional, personal or academic interest. Programs are constantly reviewed by educators who are industry experts in their chosen field to ensure that they remain current, relevant and consistently high quality.
CASUGOL strives to be a contemporary international neighbourhood where individuals gather to learn, be inspired, share ideas, knowledge, and resources to acquire all that necessary to pursue and advance in a career of their passion. Training and certification programs are also being offered in 25 Countries including Singapore, Canada, France, Thailand, Vietnam and Malaysia through our global Certified Training Partner (CTP) network.
Empowering people to be their best by making education, knowledge, and resources accessible has always been our commitment. With programs that cover a diverse range of interests, participants can certainly learn update their knowledge, gain new skills, or unleash their creativity.