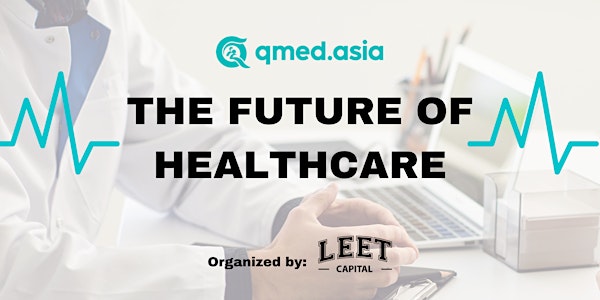 Qmed Asia Talk: The Future of Healthcare
Qmed Asia will be sharing about how technology shapes the future of healthcare industry.
When and where
Location
KL Trillion 338 Jalan Tun Razak Kuala Lumpur, Kuala Lumpur 55000 Malaysia
About this event
The future of healthcare is shaping up in front of our very eyes with advances in digital healthtech. Healthcare workers need to embrace emerging healthtech to stay relevant in the coming years.
To help us visualize the future of the healthcare industry, Qmed Asia will be painting the big picture for us to understand how they help the healthcare industry take the leap with technological solutions.
The event details are as follows:
"The Future of Healthcare"
Date: 1 Dec 2022 (Thu)
Time: 11am - 1pm
Venue: C-19-08, KL Trillion, No. 338, Jalan Tun Razak, 50400 Kuala Lumpur.
ABOUT QMED ASIA
A Homegrown Healthcare Technology Start-Up Founded by Doctors
Formerly known as QueueMed, its initial focus was to address the problem of long queues in hospitals, in which the founder, Dr. Kev Lim personally experienced himself when he brought his daughter for follow-up. Further worth noting, patients' experience in hospitals was seemingly unpleasant with the unnecessary long waiting time!
Passionate about healthcare, Qmed Asia team decided to tackle the issues patients faced at hospitals for good by introducing appointment booking and mobile live queue system for the healthcare industry. Since implementation, it has effectively reduced the patient wait time in government clinics from an average of 2.5 hours to less than 30 minutes!
Today, Qmed Asia continues to evolve and now serves as an all-in-one healthcare companion for both healthcare providers and patients. Healthcare providers can swiftly implement various digital health modules to improve their operation efficiency and provide value-based care for their patients. Being doctors themselves, they understand the pain points faced by the healthcare industry.
For more info, please visit: https://qmed.asia/ecf