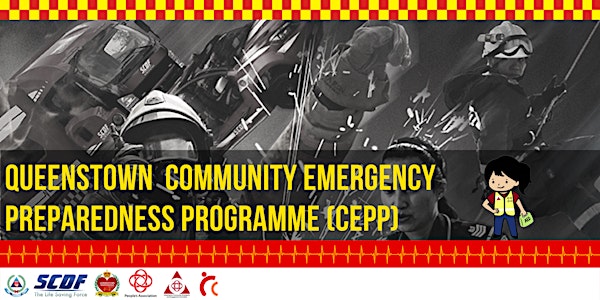 Queenstown Community Emergency Preparedness Programme (CEPP)
The CEPP by 1st SCDF Division and Queenstown HeartSavers Connect is a 3h session focusing on lifesaving and emergency preparedness skills
When and where
Location
SCDF 1st Division 168 Queensway Singapore Singapore
About this event
The Community Emergency Preparedness Programme (CEPP) focuses on core lifesaving skills and essential emergency procedures, emphasising practical hands-on engagements.
This will aid participants' understanding and allow them to practically apply what they have learned to help others during emergencies.
The "Response Ready" programme comprises a 30-45 minute e-learning component and a 3-hour physical session on 'Triangle of Life' knowledge and skills, namely first aid, CPR-AED, and firefighting, as well as an overview of SGSecure.
Topics Covered:
Fire Safety
Use of Fire Extinguisher
Improvised Bandaging
Recognising Injures
CPR-AED
In line with the latest revised community Safe Management Measures (SMMs), SCDF will be revising the CEPP class size to a maximum of 50 participants from 1 April 2022.
Vaccination-differentiated SMMS will continue to be implemented for CEPP classes. Participants will need to be fully vaccinated, recovered, or medically ineligible individuals before they can come onsite for training. Vaccination/Recovery/Exemption Status will be verified upon registration on-site.
All participants are to wear their facemasks at all times.
We seek the cooperation of all participants to adhere to the measures put in place while attending the physical classes.