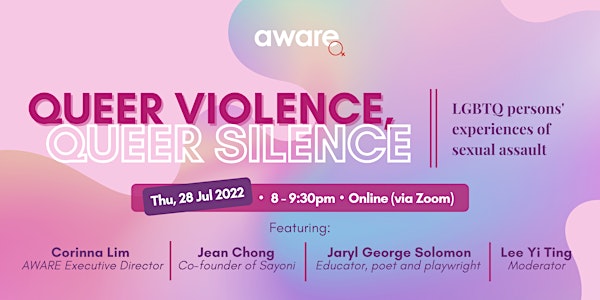 Queer Violence, Queer Silence: LGBTQ persons' experiences of sexual assault
Sexual violence against LGBTQ persons has long been overlooked. This panel explores how to break the silence.
Refund Policy
Contact the organiser to request a refund.
Eventbrite's fee is nonrefundable.
About this event
As the event will tackle sensitive topics, we advise all attendees under 18 to be accompanied by a guardian.
While the MeToo movement has empowered more survivors of sexual violence to speak out, an important segment of society has been left out of those conversations: the LGBTQ population. This despite research showing that LGBTQ people are as vulnerable to violence, if not more. Why have their experiences of sexual violence been pushed to the sidelines?
One major reason is obvious: The retention of Section 377A creates an environment of fear that discourages LGBTQ to seek help after sexual violence, or risk prosecution. Meanwhile, insufficiently comprehensive sexuality education and the absence of well-rounded representation in mainstream media further compound the problem.
Sexual violence is difficult enough for anyone to face, but LGBTQ persons have their own unique stigmas and challenges in the journey to justice and recovery. How do we bring their voices from the margins to the centre of our fight against sexual violence? Where can LGBTQ survivors go for support?
Join Jean Chong, Corinna Lim, Jaryl George Solomon and Lee Yi Ting on Thursday, 28 July 2022, for a panel discussion on sexual assault in the LGBTQ community. This event is contribute-what-you-can. Suggested contribution of $5 per head.
Entry to this event is contribute-what-you-can. While you are welcome to give any amount you wish, we suggest $5 per person. No tax deduction will be provided. Note that Eventbrite requires a minimum contribution of $1. If you require a waiver of this minimum contribution, please email gec@aware.org.sg.
---
Our panellists:
Lee Yi Ting (moderator)
Yi Ting works at the intersection of digital rights and gender justice. She is particularly invested in issues of gender-based violence, and informed by years of experience in various feminist, women's rights and sex workers' rights movements. At present, she conducts digital security training through a feminist lens, and researches image-based sexual abuse in Singapore.
Corinna Lim
Corinna Lim is the Executive Director of AWARE, Singapore's leading gender equality group. A respected leader in Singapore's non-profit world, Corinna led the transformation of AWARE from a volunteer-led organisation to a professionally staffed organisation that substantially increased in size and impact. For over three decades, Corinna's commitment to issues such as gender-equal workplaces, tackling workplace harassment and tackling domestic violence has been unwavering. Corinna draws from her entrepreneurial, management and leadership experience, and her expertise in law, gender equality and diversity/inclusion, to provide training and consultancy in workplace harassment, developing high-performing teams and more.
Jean Chong
Co-founder of feminist queer women's organisation Sayoni, Jean Chong has been an LGBTQ activist for more than 20 years. She was the first female vice-chairperson for gay Christian support network Safehaven, the first chairperson of Free Community Church and a core member of the group People Like Us. Jean is currently the chairperson of the ASEAN SOGIE Caucus, a regional network of South East Asia LGBTIQ groups, and a co-founder of the South East Asia feminist LBQ Womxn Network.
Jaryl George Solomon
Jaryl George Solomon is an educator, poet and playwright deeply intrigued by the chaos that comes from the constant tug-of-war between his body and queerness. He hopes that his works create urgent conversation around themes and issues we are too afraid to talk about. Currently, he is the Poetry Editor and Co-founder of Mahogany Journal, Singapore's first online literary journal dedicated to featuring and honing +65 South Asian voices. When he isn't creative, he enjoys playing Pokémon, watching cartoons and building a body strong enough to crush racists/fatphobes.