Online trainer-led full body Tabata workout, a high intensity workout for your cardio, upper body, lower body and core.
About this event
This Full-Body Tabata is based on the original Tabata 2:1 work-to-rest ratio but modified to 30 seconds work and 15 seconds rest time periods. The whole session is made up with 4 cycles of workout, each with 12 sets of high-intensity exercises. For each cycle of workout, there will be a 60 seconds recovery time.
Mode
Sessions will be conducted via Zoom. Registered participants will receive the link to the Zoom session via Confirmation Email.
Do note that slots are limited and available on a first-come-first-serve basis.
For security reasons, the Zoom meeting room will be locked 15 minutes after the class starts. As such, do check-in on time to avoid disappointment.
Personal Indemnity Notice
By participating in this Quick HIIT Virtual Workout session, you and any other person(s) participating in this workout together with you, acknowledge that physical exercise can be strenuous and subject to the risk of serious injury. We urge you to obtain a physical examination from a doctor before using any exercise equipment or participating in any exercise activity. You agree that by participating in physical exercise or training activities, you are doing it at your own risk and agree that you are voluntarily participating in these activities.
Personal Data Protection Notice
Personal Data will be collected and protected by Academy of Sports and Exercise Science Pte Ltd ("ASES")
Personal Data will be used, transferred and retained only for administrative and marketing/publicity purposes for Quick HIIT programme, and will be protected by ASES.
Images and videos will be captured during the sessions.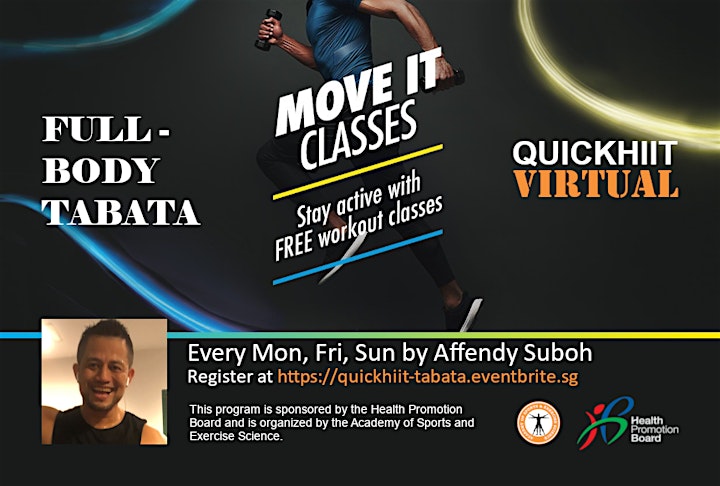 Organizer of QuickHIIT Virtual: Full-Body Tabata