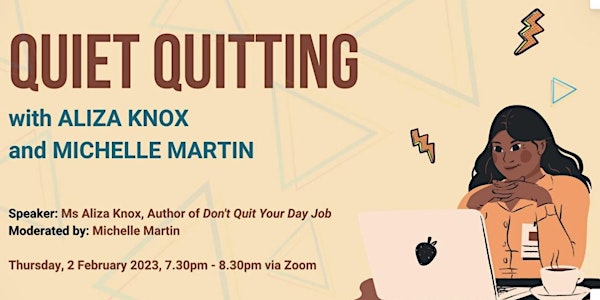 Quiet Quitting – should I do it? | Happy at Work
What is quiet quitting and is it the right strategy for you to adopt in your workplace?
By GoLibrary | National Library Board, Singapore
Date and time
Thursday, February 2 · 3:30 - 4:30am PST
About this event
What is quiet quitting and is it the right strategy for you to adopt in your workplace?
If you have any questions you'd like to ask the speaker, please share them at https://www.go.gov.sg/quietquitting
About Aliza Knox
Aliza Knox is the author of Don't Quit Your Day Job, outlining 6 mindshifts you need to rise & thrive at work.
Dedicated to empowering the next generation of leaders building successful global businesses, Aliza has been dubbed a "kick-ass woman slaying the world of tech."
Recently listed as a Top 100 Women in Tech (Singapore, 2021), she's also been named the IT Woman of the Year (Asia, 2020), honored as the AWA Singapore International Business Woman of the Year (2015), elected to Chief Executive Women (Australia, 2016) and featured in the book Women on Board—Making a Real Difference.
Website: https://www.alizaknox.com/
About Happy at Work
Happy at Work is a programme series on how to make work a meaningful and fulfilling part of life. It comprises talks on how to manage your career for greater fulfilment and happiness in life. This series is organised by the National Library Board (NLB) and is part of NLB's Career Learning Focus Area (LFA).
About the moderator: Michelle Martin
Veteran broadcaster Michelle Martin has loved a good book since she could hold one. Michelle has created national radio shows that celebrate great books in over two decades on-air. You can catch her on "READ with MIchelle" anytime on Spotify or daily from 9 am on MoneyFM 89.3. Michelle has guest-lectured at Singapore Management University, and has taught masterclasses on Executive Presence and Influence. Passionate about the internal work that informs all creativity, Michelle is also a trained Brainspotting facilitator who uses the brain-based therapy to help people reach their goals for expanded performance and creativity. 
About the organizer
The National Library Board (NLB) manages a network of 28 libraries, the National Library and the National Archives of Singapore. NLB promotes reading, learning and information literacy by providing a trusted, accessible and globally-connected library and information service through the National Library and a comprehensive network of libraries.