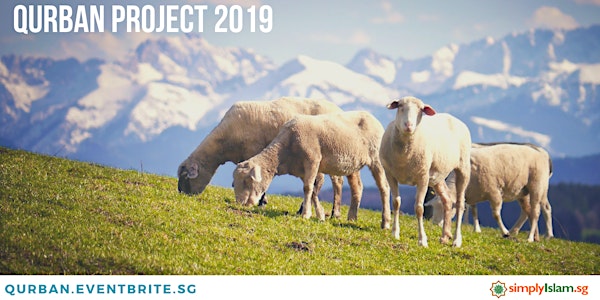 Qurban 1440H /2019 (Indonesia) Extended till 12 Aug 2019
When and where
Location
152 Still Rd 152 Still Road Singapore, 423991 Singapore
Description
SimplyIslam is happy to be organising Qurban in Indonesia (Udhiyah) project this year. We will be extending our support to Pesantren Darul Hikmah in Indonersia. This has been our annual project in support of Pesantren Darul Hikmah/Darul Hikam since 2007. Additionally, we will also be organising Qurban in Australia!
About Qurban (Udhiyah)
The Qurban or Udhiyah is a Sunnah Muakkadah (highly recommended act) according to the majority of Islamic scholars. One sacrifice is sufficient on behalf of all the family members especially for the head of the household.
Qurban Project #1 - Indonesia
Alhamdulillah, for the 11th year running SimplyIslam will be organising the Qurban project in Indonesia to raise funds for Pesantren Darul Hikmah/Darul Hikam (Islamic Boarding Schools) in Mojokerto (near Surabaya, Indonesia). This project is in collaboration with the eminent Ustaz Masruhan Kyai Choteb and his group of Islamic schools - Darul Hikmah & Darul Hikam.
How the Qurban Project Helps?
The funds raised will be utilised for the maintenance of over 1200 students studying at the schools. These students pursue both academic and Islamic studies at the school, including some pursuing the Hafiz or memorisation of the Qur'an program. While some of these students are also boarding students, most of them come from poor and needy families. The meat will be distributed to the students and residents around the Pesantrens.
What's the Cost per Animal?
The price per goat is only S$240. Please support the project generously. Your support will go a long way, Insha'Allah. Orders for this project closes on 12 August 2019.
About Ustaz Masruhan
Ustaz Masruhan is SimplyIslam's full-time resident scholar and is a Hafiz of the Qur'an and a renowned scholar and writer. His Islamic education was mainly pursued in Indonesia (to Degree level), thereupon he went on to complete his Masters Degree at Universiti Malaya (Malaysia). He is currently completing his Ph.D. at the same university. He has written over 40 books and for several years he was also the Imam Executive of Masjid Abdul Aleem Siddique (Singapore). He also has regular classes at Masjid Sultan & Masjid Mydin (Singapore). He will Insha'Allah facilitate this Qurban project.
Enquiries & Contact Details
For more details, please contact Sis Hamilah at Tel 65474407 or email enquiries@simplyislam.sg.
Payment Details
Payment by major credit cards and charge cards are accepted through this Eventbrite website.

Cash, cheque, credit card payment can also be made personally at SimplyIslam during office hours: 152 Still Road Singapore 423991. Please call 65474407 for enquiries.
You can also transfer to As-Siddiq Centre for Islamic Studies Pte Ltd DBS Current Account 027-902298-1. Please email your reference number and send a snapshot of your receipt to

enquiries@simplyislam.sg

Closing Date:

Registration and payment must reach SimplyIslam by 07 August 2019 (Australia) and 07 August 2019 (Indonesia).
---
FAQ
Q: Is it permissible for one to perform Qurban overseas such as in Indonesia?
A: The Qurban is a recommended act. It is also recommended that the performer of the Qurban sacrifices the animal himself. If unable, another may perform the sacrifice on behalf of the person performing the Qurban. It is also recommended that the person performing Qurban to witness the sacrifice itself and pray that Allah accepts that act as an ibadah. However, if one is also unable to witness the sacrifice, his/her act is still valid and it will, Insya Allah be accepted. This includes Ritual sacrifices done anywhere in the world.