Radiology Conference Kuala Lumpur Malysia MSK MRI Upper Limb Workstation Wo...
Description
This event is now over. For our next workshop in Kuala Lumpur please visit this link or click on the image below
KUALA LUMPUR MSK MRI Mini Fellowship and Workshop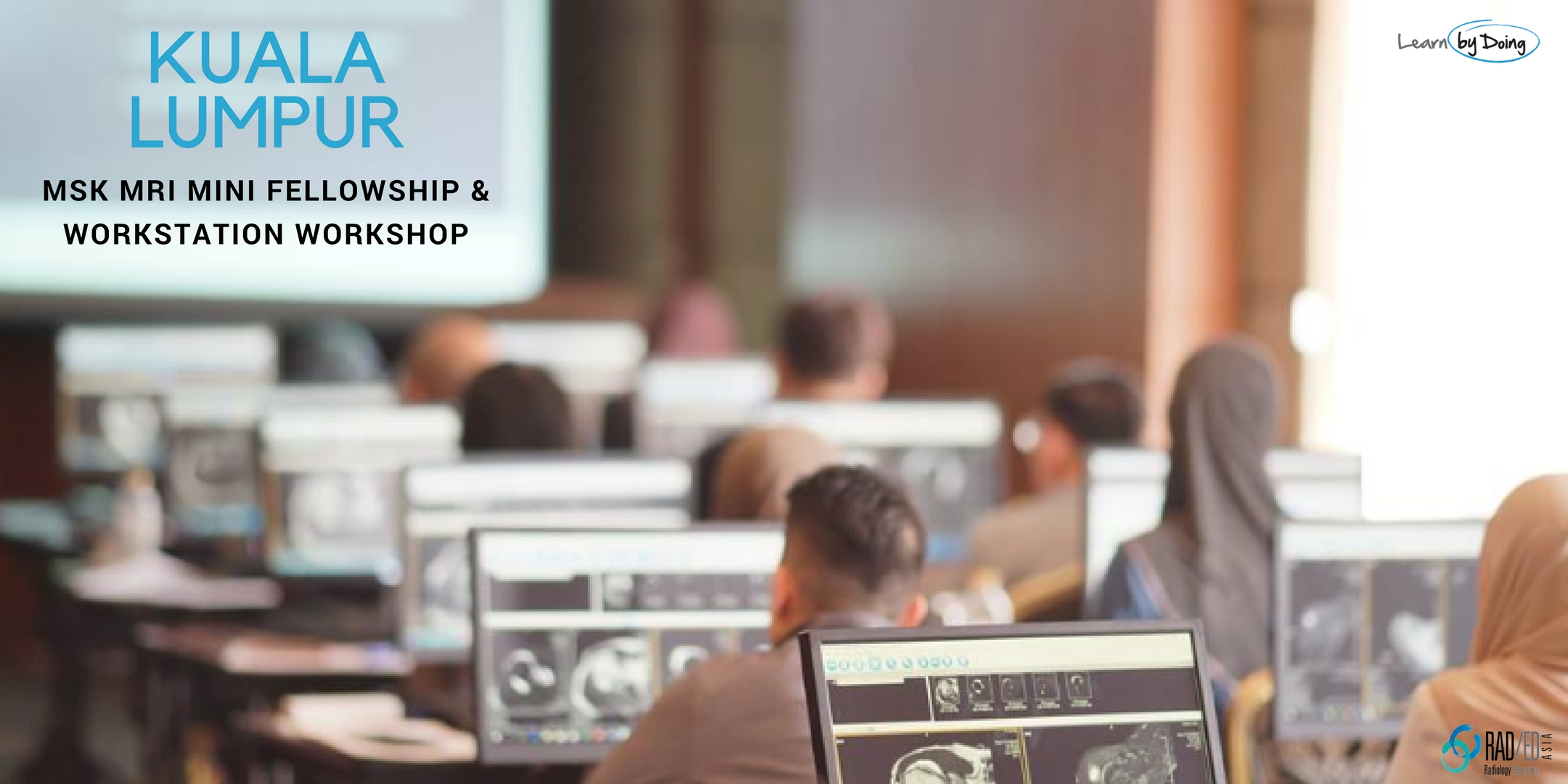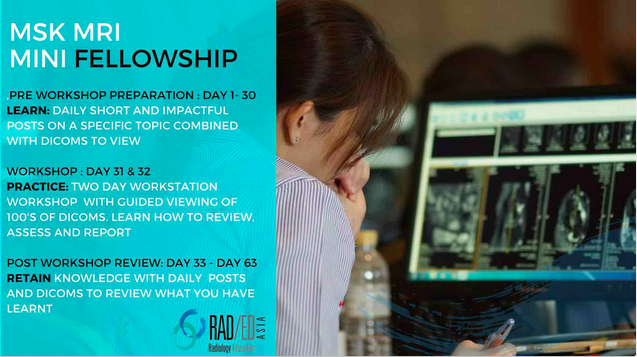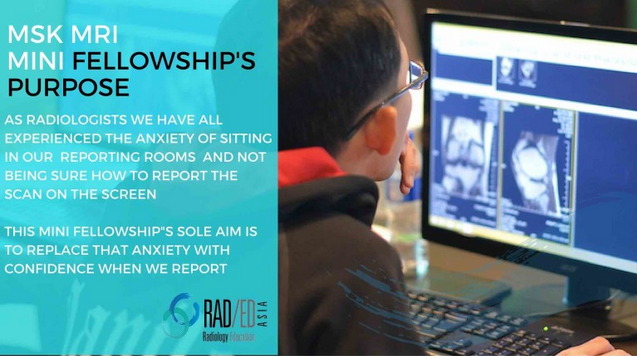 The Short Illustrated Answer to Why you might want to come to the workshop.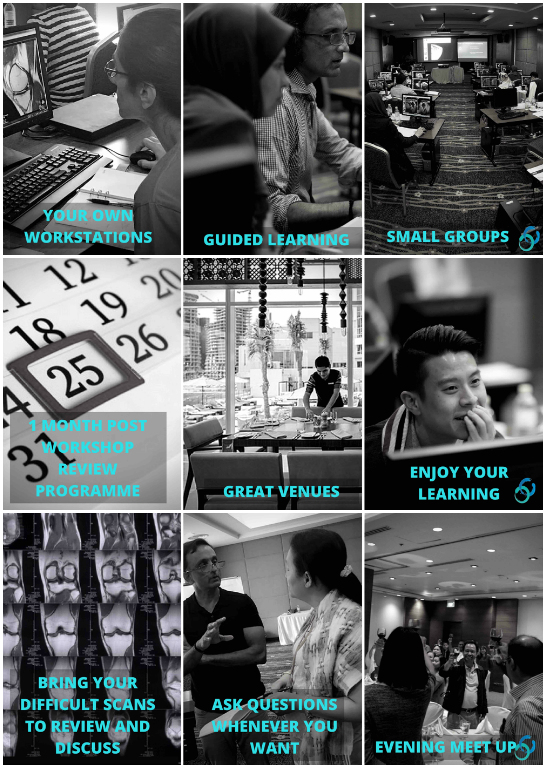 Need to know more? Here's the long version.
Why are we having workstation based workshops and not endless days of lectures? When we report at work, we dont have someone showing us just selected relevant images to make a diagnosis, we have a full dicom study to evaluate and report. We need to be able to evaluate all the information to make the diagnosis and very importantly exclude irrelevant information. Our workshops are based on learning by guided viewing and evaluating 100's of dicom scans on individual workstations, just like you do at work. We feel that this is the only way to learn.


There is a big difference between receiving information and actually learning something that you can put into use in your daily reporting. You can get endless information by going to a conference, but how much do you remember (not much) and how much do you know well enough to put into practice back at your work (even less). Learning to report an MRI confidently is quite different to having the facts about pathology presented on a slide or video to you.

How did you learn to ride a bike? By watching a presentation or getting on the bike and practicing? Its the same when you are learning MRI. There is a whole science to learning and remembering, but two of the most important aspects of learning are being actively involved in the learning and repetition. When you sit back and see 1 or 2 slides or videos of an abnormality you have very little idea of how to put that into practice and its likely to be forgotten by the time you get to reporting. However, when you actively scroll through a dozen dicoms of say meniscal tears, find the abnormality yourself, work out how to differentiate it from mimics...Thats when you learn and remember. Viewing hundreds of dicoms is central to the workshop. We have short lectures on a topic to give you the fundamentals, then its viewing, with guidance, of as many dicoms as possible mixed with quizzes and constant interaction.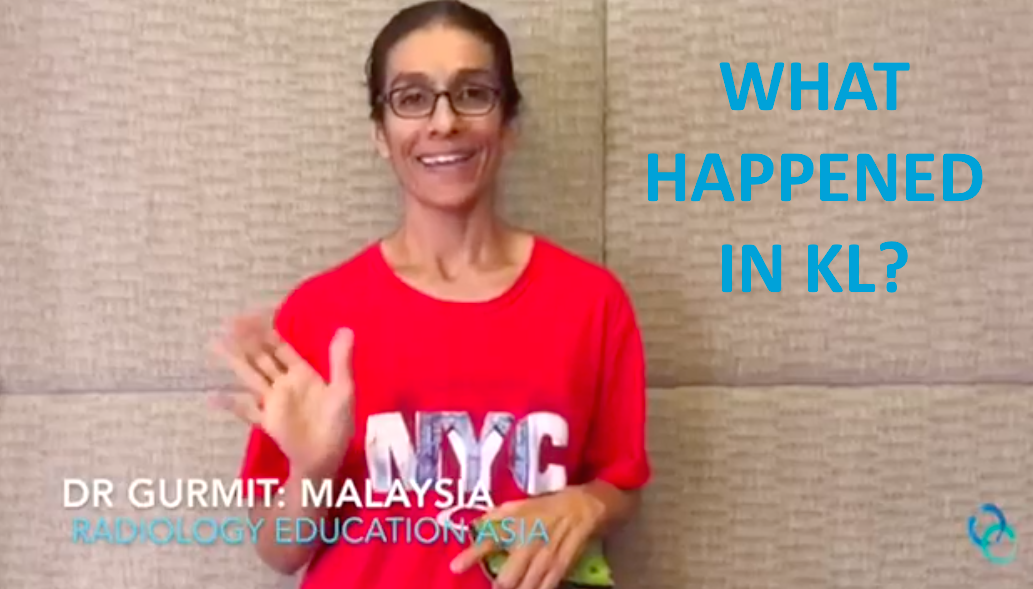 The programme will cover all the important areas of MRI pathology in the Shoulder, Elbow, Wrist and Hand. The full programme is available on the meeting website at this link MRIKLMSK
Pre and Post Workshop Review Prigramme the 3R's: Review, Refresh, Remember. Forgetting what has been learnt is the easiest part of attending a meeting. So starting 1 month before the workshops we are now sending brief reads on topics that we will cover in the workshop. In this way when you get to the workshop, a lot of what you will be learning wont be entirely new. You can focus your attention more on viewing dicoms and the presentations become a more of a refresher of what you know from the preloading. Combined with a 1 month post workshop review programme that refreshes your memory of what has been learnt, this will make a big difference to how much you learn and retain from the workshop.

We are aiming this workshop at those who have limited to intermediate level experience with MSK MRI.



Dr Ravi Padmanabhan: The workshop will be delivered by Dr Ravi Padmanabhan. Dr Ravi was trained in Medicine and Radiology in Melbourne Australia and has been fellowship trained in MSK MRI. He has worked at sports imaging centres for elite level athletes reporting MRIs and has extensive experience in reporting and teaching MRI having run MRI Workstation Workshops in SE Asia and Australia for over 10 years.
A/Prof David Connell: We will be joined in the workshop by A/Prof David Connell who is a globally renowned MSK radiologist and has a long history of imaging and treating elite athletes. He is an associate adjunct professor in both the Faculty of Medicine, Monash University and the Facility of Sports Medicine and Research at La Trobe University. He is recognized as an international authority on muscle and tendon injuries and has authored 101 publications, including book chapters and educational CD-Roms. He has been an invited speaker to major meetings in 19 different countries, is the past president of the Australasian Musculoskeletal Imaging Group, sits on the editorial board of 5 journals, and is an instructor on the Erasmus MRI European diploma. He supervises 2 musculoskeletal fellowships and several PhD candidates and has been a radiologist at the Sydney and London Olympics. David currently lives in Melbourne and has established a diagnostic and treatment facility for elite athletes at Olympic Park. We are very pleased to have him present at the workshop.

One of the features of our workshops has been people bringing in scans for review. This is a great way for everyone to learn, gives you an opportunity to discuss scan protocols and we encourage this.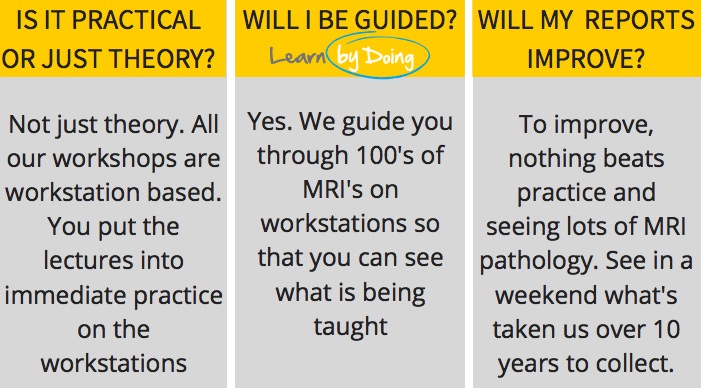 How you will actively learn:
Fellowship style learning where you actively look and are guided through full dicom studies on individual workstations and can ask questions to clarify doubts.


Guided viewing of MSK MRI pathology in 100's of dicom studies. See in a weekend an extensive amount of pathology thats taken us over 10 years to gather.

View dicom studies from various field strength MRI's and learn how to assess both arthrographic and non arthrographic studies, so that you are not limited to only one sort of imaging.
Learning is not just gathering facts. Its no use if you cant retain and recall that knowledge when you need it. Our structured method of learning increases your ability to retain and recall the knowledge you gain when you need it when you are back in your own clinic or hospital.
Whats Included?
2 Days registration.
1 Month Pre and Post Workshop Review Programme.
Individual laptops with Dicom Viewer.

Online access to all slides.

Lunch and morning and afternoon refreshments for both days.
Saturday evening meet up.
Where is it being held?
We are currently in discussion with the Gardens Hotel in Mid Valley. The venue will be confirmed shortly.

How Do I Register?


Radiology Education Asia : www.radedasia.com

Linkedin: https://www.linkedin.com/in/radedasia
Email: info@radedasia.com

#radedasia, #mskmrikl, #mskmri