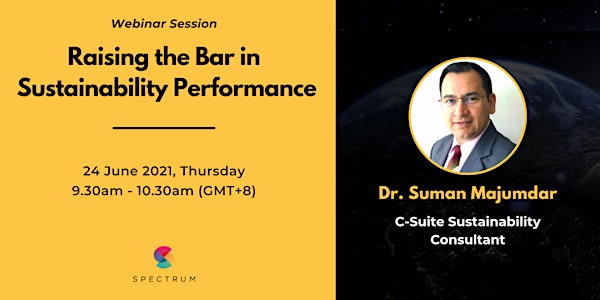 Raising the Bar in Sustainability Performance
Join our breakfast webinar to hear more on the Earth's ecological footprint, industrial ecology and the conflict prevailing today.
About this event
Outline
"We would need the regenerative capacity of 1.6 Earths to provide the natural resources and ecological services we currently use." This is how much humanity demands versus what the planet can provide, according to the WWF.
Sustainability concerns us all, so what can corporations and consumers do to help and reduce waste? Join our next webinar session and gain a deeper understanding of important global issues such as climate change and excessive use of resources. This knowledge is an important step to becoming change makers within our organisations and networks.
With his vast experience in sustainability strategies and circular economy, our next speaker Dr. Suman Majumdar is raising awareness on the impact of industries' practices on the Earth's ecological footprint. During the webinar, he will also share his personal and professional journey and case studies for best practices in corporate sustainability.
About the Speaker
Dr. Suman Majumdar, C-Suite Sustainability Consultant
Suman is a progressive senior leader engaged in designing and implementing sustainability strategies and integrated thinking practices to build capacity in corporate and non-profit organisations. He cultivates business partnerships, engages internal / external stakeholders, and collaborates cross-functionally to raise awareness and execute process improvement in corporate sustainability, environmental management, and climate change. He specialises in policy analysis and establishing recognition platforms for excellence in sustainability performance. Proficient in areas of transparency and disclosure, his areas of expertise under capacity building, consulting and policy advocacy include: Sustainability Policy & Strategy Development | Climate Change | Environmental, Social & Governance | Circular Economy | Life Cycle Assessment | Environment Management | Sustainable Development Goals | Sustainability Performance Assessment | Non-Financial Disclosure.
Suman has 29 years of experience in large corporations (P&G, JSW Group) as well as in an apex industry body (Confederation of Indian Industry). He holds an M.Sc. degrees in Environmental Science (JNU, New Delhi), M.Tech. in Environmental Engineering (IIT Bombay) as well as a Ph.D. in Environmental Engineering (IIT Bombay). He is currently engaged as a consultant for the Global Reporting Initiative (GRI), prior to which he was the Country Lead - Singapore for Thinkthrough Consulting Pte Ltd.