Description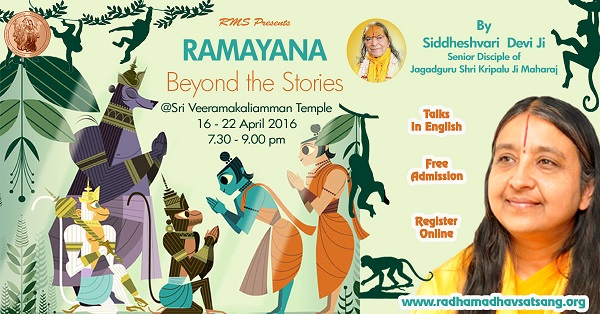 Ramayana Beyond the Stories - Misconceptions Clarified
RMS, a registered charity organization in Singapore, is honoured to host a series of talks at Sri Veeramakaliamman Temple by Swamini Siddheshvari Devi Ji, a world-renowned teacher of Spirituality, Yoga and Meditation, from 16 to 22 April 2016.
WHY ATTEND THESE TALKS?
Ramayana is probably the most misunderstood among the Hindu scriptures. Most people just hear recitation of the Ramayana verses and the stories. The message behind the stories is rarely conveyed. Many episodes – the Bali-Sugriv war, Bivishan leaving Lanka to join Rama, Sita's abduction by Ravana, Sita'sagniparikshya create doubts in peoples' mind on Lord Rama himself.
Swamini Siddeshvari Devi will take you right into Lord Rama's descension period to give you the answers to these misconceptions along with the essence of Ramayana.
---
Date: 16 - 22 April 2016
Time: 7:30 PM – 9:00 PM
Address: Sri Veeramakaliamman Temple Hall (Level 3),
141 Serangoon Road, Singapore 218042
Near Little India MRT (Exit E)
Contact: 9617 5567 (Pramod), 9721 3663 (Rajesh)
---
Find more about:
What is the goal of reading Ramayan? Who really wrote the Ramayan?
Who is Shri Ram? What is Ram tattva?
Can Shri Ram be known or attained?
What is the secret of Shri Ram's avatar?
What is the meaning behind Shri Ram's leelas (Divine actions)? Can they be understood?
What is the difference between Shri Ram and Shri Krishn?
---

Call: 96175567 (Pramod), 97213663 (Rajesh)
Email: event@radhamadhavsatsang.org
Website: www.radhamadhavsatsang.org