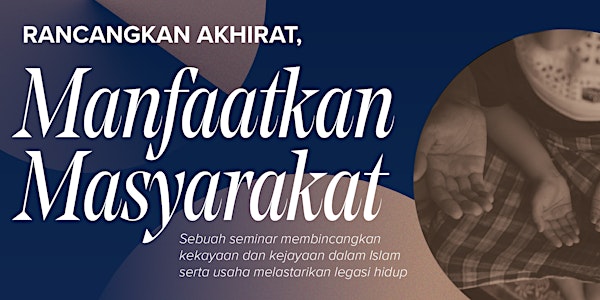 Rancangkan Akhirat, Manfaatkan Masyarakat
Adakah anda telah buat perancangan harta untuk keluarga dan masyarakat anda? Apakah yang bakal anda tinggalkan?
When and where
Location
Lifelong Learning Institute 11 Eunos Road 8 Singapore, 408601 Singapore
Refund Policy
Contact the organiser to request a refund.
Eventbrite's fee is nonrefundable.
About this event

Sebagai individu Muslim, apabila kita membincangkan tentang harta, sama ada usaha mengumpul atau menguruskan harta, atau membuat perancangan estet dan pengagihan harta, seringkali kita membelakangkan kepentingannya serta manfaat yang diraih. Kita hanya berpegang pada prinsip bahawa Rasulullah s.a.w menjalani kehidupan yang sederhana, dan apabila kita mati, faraid mampu mengaturkan segala keperluan waris kita. Dalam konteks hari ini di mana ramai individu Muslim yang semakin berada, di samping cabaran ekonomi yang semakin kompleks serta struktur keluarga yang lebih berbagai, perancangan harta menjadi semakin penting. Apa pandangan Islam tentang mengejar kekayaan dan kejayaan? Adakah kita boleh sahaja bersandarkan pada faraid sepenuhnya?
Ikuti bersama panel pakar kami membincangkan:
Perspektif Islam tentang mengumpul harta
Perancangan harta & kepentingannya
Membuat perancangan kewangan sebagai seorang Muslim Singapura
Apakah perancangan legasi? Adakah Faraid mencukupi?
Kekayaan dan kejayaan dalam Islam
Para panelis:
Ustazah Shameem Sultanah, Pengasas, Ilm Hub
Encik Sani Hamid, Pengarah, Wealth Management, Financial Alliance
Encik Ezra Bunyamin, Pengarah Urusan, Deansgate Barakah Law Corporation
Moderator: Puan Nona Kirana, Division Director, Era Realty Network Pte Ltd
Seminar ini akan diadakan di dalam Bahasa Melayu.
Semua hasil jualan tiket akan disalurkan ke Wakaf Masyarakat Singapura.
----------------------------------------
As Muslims, whenever we talk about wealth, be it building or managing wealth or making an estate or inheritance plan, its importance and benefits are often downplayed as we fallback to the first things that come to mind – one, Rasulullah s.a.w led an ordinary life, and two, faraidh. In today's context, there is rising affluence within the community. At the same time, we deal with complex economic challenges and have diverse family structures, making wealth and estate planning even more important. What does Islam really say about pursuing wealth and success, and is it really okay to rely on just faraidh?
Join us as our panel of experts discuss:
Islamic perspective on wealth accumulation
Wealth planning & its importance
Navigating financial planning as a Singaporean Muslim
What is legacy planning? Is Faraidh sufficient?
Wealth & Success in Islam
Panelists:
Ustazah Shameem Sultanah, Founder, Ilm Hub
Mr Sani Hamid, Director for Wealth Management, Financial Alliance
Mr Ezra Bunyamin, Managing Director, Deansgate Barakah Law Corporation
Moderator: Ms Nona Kirana, Division Director, Era Realty Network Pte Ltd
This seminar will be conducted in Malay.
Proceeds from the ticket sales will go towards Wakaf Masyarakat Singapura as wakaf contributions.