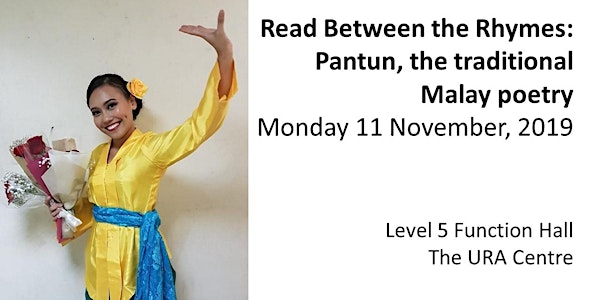 Read Between the Rhymes: Pantun, the traditional Malay poetry
Event Information
Location
Function Hall Level 5
45 Maxwell Road
Singapore 069118
Singapore, 069118
Singapore
This lecture series focuses on the history, art, religion, philosophy, and culture of Asia.
About this event
About this talk
Read Between the Rhymes: Pantun" aims to understand the intended meanings portrayed in traditional pantun and traditional Malay songs, thus exploring the socio-cultural aspects of pantun. The Malays were very observant and knowledgeable on nature such that the behaviours of nature have been cleverly used as imageries to imply subtle meanings in pantun. Participants will get to learn the basic structure and rhyming scheme in pantun as well as the extended pantun berkait. This lecture will wrap up with the challenges of preserving pantun today as a cultural tool for identity preservation of the Malay society.
About the speaker
Aisyah Lyana, co-commissioned the theme poem, "Genggaman Sayang" for Singapore Writers Festival 2016. Aisyah attained Honourable Mention for "Impian Harimau", "Taman Tembok" and "Kakitangan" at Golden Point Award 2013&2017. In 2017, Aisyah co-founded an initiative called Kelana Pantun Temasek to preserve the traditional Malay pantun among youths through workshops and performances for the public including NLB, NHB and Friends of the Museum. Aisyah expanded her knowledge on pantun and cerpen-writing at the 2018 MASTERA conferences in Brunei and Indonesia respectively. Currently, Aisyah is majoring in Global Studies with a minor in Malay Studies at NUS.
---
For more information please visit https://www.fom.sg/publicevents.aspx?CID=18
Date and time
Location
Function Hall Level 5
45 Maxwell Road
Singapore 069118
Singapore, 069118
Singapore