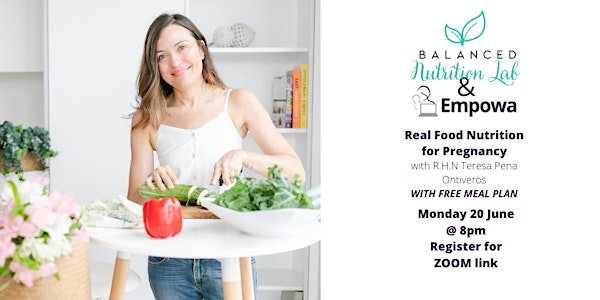 Real Food Nutrition for Pregnancy with R.H.N Teresa Pena Ontiveros
A healthy diet is an important part of a healthy lifestyle at any time but is especially vital if you're pregnant or planning a pregnancy.
About this event
What if I told you there is a way to find food freedom & that it can start during pregnancy. An approach to nutrition that doesn't involve thinking about what you can't eat, instead focusing on learning how to make positive changes that will work with, & positively impact, your health and your hormones. From trying to conceive, through pregnancy and postpartum.
Conscious shifts in how we view our body and how we fuel it, and awareness of how our hormones and life cycles impact our eating and health can literally change your life, and help to start the life of your baby in the most empowering way!
In this 1 hour zoom session you will get insights into Real Food Nutrition for Pregnancy!
What is real food?
What should I eat for two?
What nutrients do I need during pregnancy?
Postpartum nutrient repletion
How to combine foods
Mindful eating
Foods that build a healthy baby and foods that don't
Pregnancy expectations and common complaints
BONUS
FREE Meal plan + recipes
OUR GUEST SPEAKER AND TRAINER
Teresa
Is a registered Holistic Nutritionist with a passion for education and healthy eating. She has been an educator for over 20 years. She is passionate about healthy eating, and creating delicious meals without compromising their nutrition value. She has a special interest on how gut health is related to so many health conditions and how with few dietary changes we can improve our health dramatically.
Thanks to her teaching background she knows how to listen to her clients and explain the necessary changes to improve their health.
She believes that it is never too late to make changes!
She has a degree in nutrition and is also a culinary expert which comes in helpful when preparing individualised meal plans.
She actually started her nutrition studies due to her own health issues. Her health team couldn't get the root problem of the chronic hives she had developed. Doctors would just prescribe antibiotics, creams and other medication, however, nothing got to the root of her problem. She understood that the only way was to start with improving my gut health. Within a few months, her hives disappeared.
She believes in food. Food is our medicine and we should EAT HAPPY.
PLEASE NOTE THAT OUR ONLINE EVENT WILL GIVE YOU INSIGHTS AND TIPS BUT DOES NOT COVER FULL COURSE CONTENT
Data Policy
Please note that your registration details may be shared with vendors and partners of this event. By providing your registration details you are confirming your agreement to this in the knowledge that you may be added to mailing and subscription lists. Should you wish to unsubscribe from the Empowa mailing list please do not hesitate to contact kathy@empowa.sg to request the same.
Refund Policy
Please note that refunds cannot be given if you decide you cannot make the event. Instead we encourage you to contact us to arrange a phonecall to to obtain the information that was discussed at the live event.
Non Medical Policy & Disclaimer
Please note that nothing spoken, recorded, written or inferred in any relation to Empowa, its employees or guest speakers is deemed to be medical advice. You must ensure you obtain clear and unequivocal advice from your health care practitioner(s) before proceeding with any decision that may impact your health or the health of your baby. POSTpartum doula's, as a profession, do not provide any medial advice, our scope is non medical support and advice only. See General T&C's for more information.
Cancellation Policy
In the unlikely event Empowa are required to cancel this event please note that all customers with PAID tickets ($15) will be contacted independently and provided with relevant information that would have been provided during the live event. Please note that no refunds will be given.