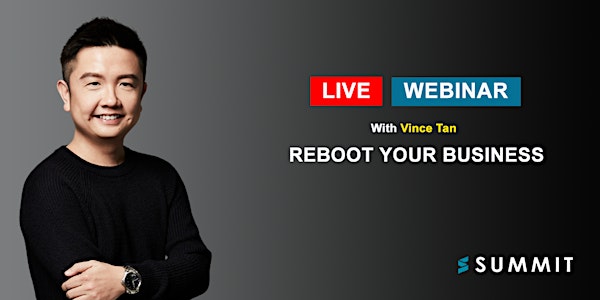 Reboot Your Business With Vince Tan
Discover how savvy entrepreneurs are pushing forward in the new era of business
About this event
It's unlikely to ever going to be the same again
As global business community continues to feel the effects of these challenging times, there is a digital evolution happening right before our eyes. Businesses are no longer the same and it's unlikely ever going to be the same again. BUT this is also a period for massive migration.
Thankfully, it's not too late to be equipped with the knowledge and skills for the uncertain future ahead.
If you are a traditional business owner, or someone thinking of going into business, it's time to...
Adopt & Adapt!
Meet Vince Tan
Vince Tan is a serial entrepreneur with over 18 years of experience specialising in digital marketing. At the peak of his career, he generated close to $1 million in 7 days from 4 product launches and founded ShockMedia, one of the leading digital agencies in Malaysia.
As an entrepreneur, he built 3 companies from scratch into million dollar businesses and was awarded the 'Top 30 Outstanding Young Malaysians Award' and '100 Most Influential Young Entrepreneurs'. He passionately helps aspiring entrepreneurs and business owners scale their businesses with his extensive experience and digital marketing skills-where his students have went on to find success in various ventures including Retail, F&B, Fashion, Education and more.
What's covered in the webinar
✔︎ Explore digital marketing tactics you might haven't considered
✔︎ How the best businesses started with simple ideas
✔︎ How to navigate through the post-pandemic when cashflow is running thin
✔︎ Do's and Don'ts when starting and scaling a business
✔︎ The hurdles and setbacks in Vince's entrepreneurship journey, and how he overcame them
To join this FREE webinar on 17th June 2020 (Wed, 7.30pm to 10.30pm), please click on this link:https://bit.ly/2ASUIlV
To join this FREE webinar on 18th June 2020 (Thus, 7.30pm to 10.30pm), please click on this link: https://bit.ly/2UjCf9h