ReBound art therapy project offers young working adults a space to reflect on workplace transitions and learn to uniquely transform books.
About this event
A year into the COVID-19 pandemic, 9 in 10 Singaporeans continue to struggle with their mental health, with "millennials (aged 30-39) reporting higher stress coping with daily stressors at work as compared to pre-retirees" (AIA Health Matters Survey 2021). Meanwhile, with the reopening of workplaces, some have been experiencing "re-entry anxiety"—the fear of re-entering society as COVID-19 restrictions are slowly being lifted (The New Paper, 12 Apr 2021).
As you are navigating back to your workplace, how are you coping with the new experience and responding to your emotional needs?
ReBound art therapy project organised by The Red Pencil (Singapore) offers young working adults a space to reflect on workplace transitions brought about by COVID-19. Through this 6-session participatory art therapy project, participants will be guided with therapeutic discussion, group sharings and creative processes aimed at empowering them to create their own narratives and transformations towards better emotional well-being. Participants will learn a unique technique to creatively transform books with everyday objects and creative mediums.
There are two parts to this project:
1. A series of art therapy sessions carried out from May 2021
2. A final public exhibition to showcase the artworks (subject to consent by participants), with the aim of generating more awareness and advocacy for art therapy work and emotional well-being
This project is open to young working adults facing workplace transition (maximum age is 35 years old). Participants must be based in Singapore.
Art Therapy Session Format
– Duration: 6* weekly sessions, 1 hour each
– Venue: Zoom
– Art materials will be advised upon registration
– Cost: S$16.00/session
Session Dates & Times for ReBound (Thursdays 2)
Dates: 20 May, 27 May, 3 June, 10 June, 17 June, 24 June 2021
Time: 7.30pm to 8.30pm
*As this is a 6-week project, participants must commit to all 6 sessions.
Each project slot requires a minimum sign-up of 5 to proceed. Registration closes 7 days before commencement of the project. Payment will only be made once slot is confirmed.
To participate, please register here: http://bit.ly/reboundreg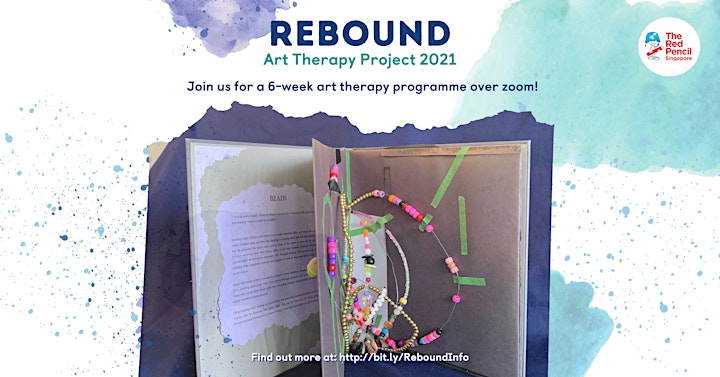 Organiser of Rebound Art Therapy Project (for young working adults) - Thursdays 2