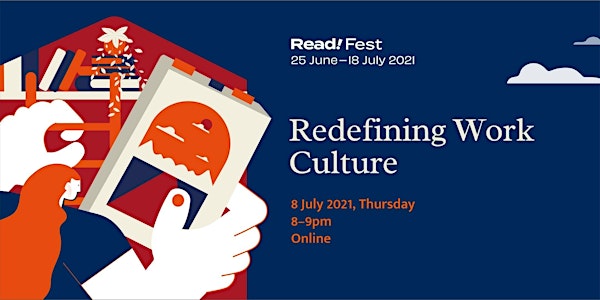 Redefining Work Culture | Read! Fest
What impact does working from home to adjusting to a hybrid model have on work culture and the individual?
About this event
About the Programme/Event
From working from home to adjusting to a hybrid model, the way we work has experienced major shifts in the last year. What impact does this have on work culture and the individual? Has this made job satisfaction easier to achieve? Join us in this timely discussion of what it means to be a worker in a post-pandemic world.
About the Speakers 
Dr Victor Seah is a Senior Lecturer at the Singapore University of Social Sciences. His research focuses on creativity and psychology at work and has been published in journals such as the European Journal of Psychological Assessment, and Learning and Individual Differences. Dr Seah has also been cited in local media such as The Straits Times, CNA938, and The Business Times.
As the Co-Founder of Happiness Initiative, Simon Leow is very fascinated by the science of wellbeing, and is very passionate about helping people discover the choices they can make to be happier. He holds a Masters in Applied Positive Psychology from the University of Pennsylvania. Simon lives in Singapore and travels frequently for consultancy work and for inspiration.
About the Moderator
Sabrina Ooi is the co-founder of Calm Collective Asia, a social enterprise focused on normalising the conversation on mental health in Singapore and the region, through hosting virtual talks and community events. Having had lived experience of mental illness, Sabrina is now a mental health advocate where she is particularly interested in mood disorders and workplace mental well-being. Prior to founding Calm Collective during 2020's circuit breaker, Sabrina worked in the software industry and was a professional DJ in Singapore's top nightlife establishments.
Title Tie-up
This programme is inspired by Hard at Work, a featured title of Read! Fest 2021. Borrow the title here.
For other programmes related to this title, visit go.gov.sg/nlb-hard-at-work
For the full listing of Read! Fest programmes, visit go.gov.sg/readfest21
About Read! Fest 2021
Read! Fest 2021 invites you on a forward-looking journey of self-discovery. With the theme of Reboot, take a moment to re-examine and refresh your lenses on day-to-day aspects that shape our lives.
Anchored by 12 key books and topics, Read! Fest will host over 60 programmes – from talks by world-renowned authors to workshops and experiences – each curated to immerse you in a world of thoughtful ideas for our time.
From myths and minimalism to work and womanhood, stretch out to explore new worlds and perspectives. Where will you find yourself?
For more info, visit go.gov.sg/nrm-readfest21.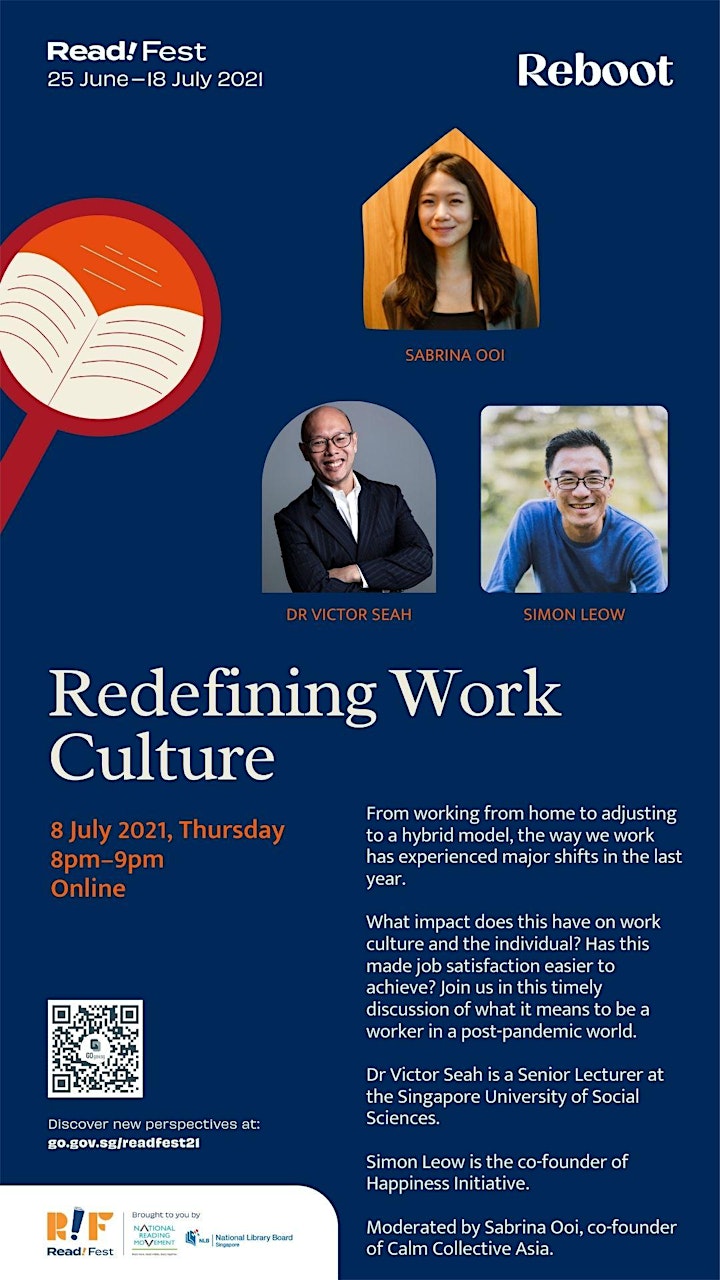 Online Programme/Event Administrative Information
This programme is conducted entirely online. You may access Zoom via the app or using a web browser.
Please ensure that you enter a valid email address as you will receive an email with the link to the online programme/event near the day of the programme/event.
The link of the programme should not be shared with others
 Do ensure you have a strong internet connection. Using your mobile data is not recommended.
The National Library Board, Singapore (NLB) reserves the right in its absolute discretion to disqualify or refuse admission to any registrant without any reason and notice.