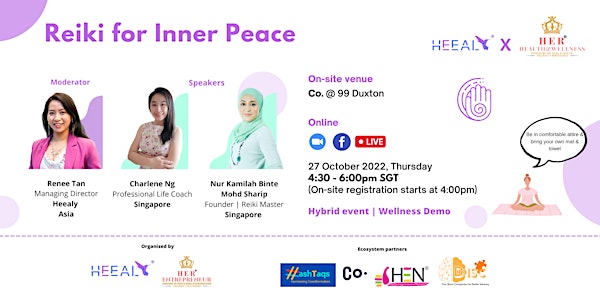 Reiki for Inner Peace
Reiki for Inner Peace
About this event
Register at: https://bit.ly/heealyOct
Join Renee with invited speaker:
• Charlene Ng, Professional Life Coach, Singapore
• Nur Kamilah Binte Mohd Sharip, Founder | Reiki Master, Singapore
for this Heealy® webinar on 'Reiki for Inner Peace', where we will be sharing on:
4:30-5:30pm: Panel Discussion (On-line attendees listen in from zoom)
• Understanding the principles of Reiki and how it can heal our health
• Adjusting to the paradigm shift in mental, physical & relationship healing through Reiki
• How bio-resonance and energy in Reiki can help us in cultivating positive emotions & good health
5:30-6:00pm: On-site at 99 Duxton
• 5 minutes Pendulum scanning to understand your energy state
• 25 minutes Self compassion meditation (Please bring a mat/long towel)
Do bring a mat or long towel along for the 30 minutes on-site demo session.
DETAILS
Date: 27 October 2022 (Thursday)
Time: 4:30pm to 6:00pm SGT (On-site registration starts at 4:00pm)
Venue:
On-site: Co. 99 Duxton
Online: Zoom & Facebook Live
For online attendees, we will be conducting the session via webinar, so do RSVP by registering here to receive the webinar link.
Register for the Premium Pass to receive the full recording of the event.
Early bird Premium passes end 25 October 2022! Get your tickets now!
TICKETS
1. Freemium Pass
+ Online LIVE Broadcast only
+ Q&A
2. Premium Pass
+ On-site passes or Online LIVE Broadcast only
+ Video recording
+ Q&A
Contact us at contact@heealy.com or +65 8868 1418 for any inquiries.
*Content creation and training sessions are self-funded, support us to get this going if you can. 😊