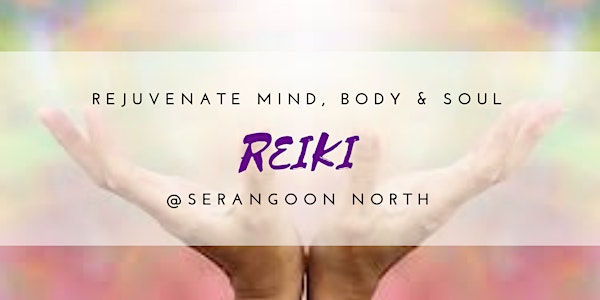 Reiki Healing @ Serangoon North
When and where
Location
SaviourConsultations Blk 142 Serangoon North Avenue 1, #01-291 Singapore, Singapore 550142 Singapore
Refund Policy
Refunds up to 30 days before event
Description
Looking for a way to de-stress, connect to your inner self and socialise? or
Simply looking to try a form of energy healing modality or reiki healing on a small scale prior to a major commitment?
Come to our REIKI SHARE @ SERANGOON NORTH!
To rejuvenate and raise your vibrations for a healthy wellbeing

What is a Reiki share/group healing?
A delightful time to decompress, heal and experience Reiki in your own hands. This session is open to everyone across all ages and cultures. Please feel free to bring loved ones new to Reiki as I offer a Heart chakra attunement to anyone wanting to experience the Reiki flowing through their own hands.
What is expected during the share?
Do have your meal or a light snack prior to the session so that you won't go hungry.
Introduction

We will begin by introducing ourselves to the group and share what brought you to the session and/or your interest in Reiki.

Newbies are encouraged to read up on the short description on reiki prior to the session to have an understanding of Reiki healing and cleansing process.

Questions on reiki will be entertained before and after the share, and not during session due to time constraints.

Participants are requested to be on time or be present within the 10mins grace period. Latecomers will not be entertained once the heart attunement process has begun.

Participants are required to set your mobile devices to either silent or airplane mode prior to the heart attunement process.

Heart attunements

Newbies – Those who are new to Reiki will receive a reiki heart chakra attunement (also known as temporary attunement to Reiki), which will allow the recipient to experience Reiki flowing through their own hands. This attunement process would also allow the recipient to experience Reiki for about 2 weeks to a month depending on their own body capability.

Reiki practitioners – This attunement would serve as a boost for those who are already permanently attuned to Reiki.

Reiki session aka BBQ time

I personally love to call the group reiki share as a BBQ session, where the recipient would experience the flow of Reiki coming from three or more people at one go for 10 to 15 mins depending on the group size.

During the session, individuals may experience the sensation of energy flowing through their hands while giving and other parts of their body while receiving. These sensations are experienced as heat, cold, tingling or nothing. It is normal for anyone to feel nothing at any point of his or her Reiki journey, especially during the humble beginnings.

The key is to keep an open mind when channelling Reiki energy, and just enjoy the entire process while reiki enhances the body natural healing capabilities.

Zen ending

The session would end with a short-guided meditation followed by setting an intention for the week ahead.

Photoshoot and Energy exchange
After the share, a group shot will be taken to be posted on the official page.

Do place your $15 donations in the bowl before you leave.

Participants (especially newbies) are requested to complete the survey on our official reiki share website. Thank you and hope to see you again
Payment options:
-Paypal via Eventbrite
-Cash payment via Eventbrite. Choose 'Other payment' option during check out when you register under Eventbrite.
-All cash payment has to be exact and placed in the bowl anytime during the session.
For more information about Reiki, do visit: https://www.saviourconsultations.com/usui-reiki