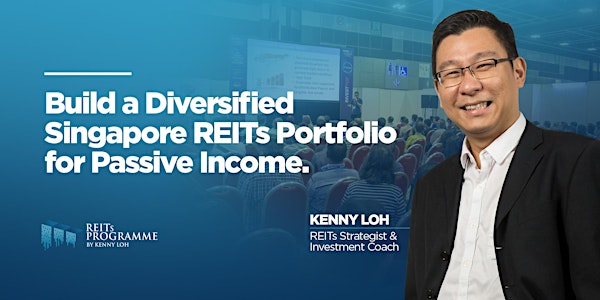 REITs Programme by Kenny Loh
The objective of this programme will help you build a diversified Singapore REITs Portfolio for passive income.
When and where
Location
Lifelong Learning Institute 11 Eunos Road 8, Singapore 408601 Singapore, Singapore 408601 Singapore
About this event
As investors, we've always known that real estate is one of the best choices of investment on our little island – with rising land prices and stable rental returns, what's there not to like? However, we all know that real estate investing is not easy – as these perks come with a huge price tag, and most investors don't have the knowledge or experience to begin, not to mention in being successful. Now imagine this – what if you can invest in real estate without worrying about large capital requirements, mortgages, or even having an extensive knowledge of tenant and property management? It sounds too good to be true – but it's possible, through an investment vehicle called Real Estate Investment Trust (REIT). And just like common stocks, REITs are traded on the stock exchange.Most people have heard of REITs. However, many are still not aware of its potential to grant you a very stable and passive income (about 8% per year if invested correctly). 
The objective of this programme will help you build a diversified Singapore REITs Portfolio for passive income.After this programme, you will go home with a concrete understanding and actionable plan on how to build a diversified Singapore REITs portfolio.
What You Will Learn:
Understanding Different Types of REIT
Fundamental Analysis and Understanding Important Financial Ratio (Market Cap, PE Ratio, NAV, Gearing Ratio, Distribution Yield)
Analyse the Quality & Dividend Sustainability of REIT (Tenant Mix, Occupancy Rate, WALE, Debt Expiry Profile)
Risk Assessment of the REIT
Valuation of the REIT (Undervalue, Overvalue or Fair Value)
Entry & Exit using Technical Analysis
Build a Diversified REITs portfolio from different sectors
Know that the REITs Programme is Only the Beginning of a Fulfilling Investment Journey with Kenny and everyone at Adam Khoo Learning Technologies Group.
The REITs programme is NOT a 1 Day "touch-and-go" programme. You'll be invited to inner-circle groups for real-time discussions and sharings of REITs investments and opportunities.
The REITs Programme By Kenny Loh Will Include:
Full Day Hands-on LIVE REITs Programme Conducted by Singapore's most renowned REITs Investor and Coach
Comprehensive REITs Evaluation Checklist
Exclusive REITs Scanner Software that helps you analyse any REIT in less than 7 minutes and to time the REITs in just 3 seconds!
REITs Table of various Singapore REITs for easy analysis
Access to Market Update and Sharings organised by Singapore's leading Fund Managers
Join one of Singapore's largest REITs Community through a Facebook Secret Group, where you will learn, share and discuss live-market outlook and updates with me and fellow like-minded investors.
For enquiries, please get in touch with us at 66531130 or email to portfolio@akltg.com.
About the Speaker, Kenny Loh
Kenny Loh, one of the pioneer financial blogger in Singapore since 2009. http://MyStocksInvesting.com attracts over 19,000 blog readers from over 110 countries.  Kenny is especially passionate about REITs and has been conducting the longest running REITs investing course in Singapore where he teaches his simple yet effective method of REITs investing. Featured by media such as AsiaOne, The New Paper and SharesInv for his opinions about REITs, Kenny is also a much sought after speaker at events by organisations such as SGX, SIAS, CIMB securities, RHB securities, InvestingNote, City Index, OnlineTradersClub (Singapore) and Adam Khoo's Wealth Academy Investors Inner Circle. Now, Kenny helps private clients in estate planning, and he is also licensed to advise and manage investment portfolio for private individuals, currently managing millions. Kenny trains with the wealth faculty at Adam Khoo Learning Technologies Group (AKLTG), specialising in REITS and investment portfolio building.
This programme is brought to you by Adam Khoo Learning Technologies Group, Singapore's largest training and education organisation.