Description
** This project is supported by Lifelong Learning Council **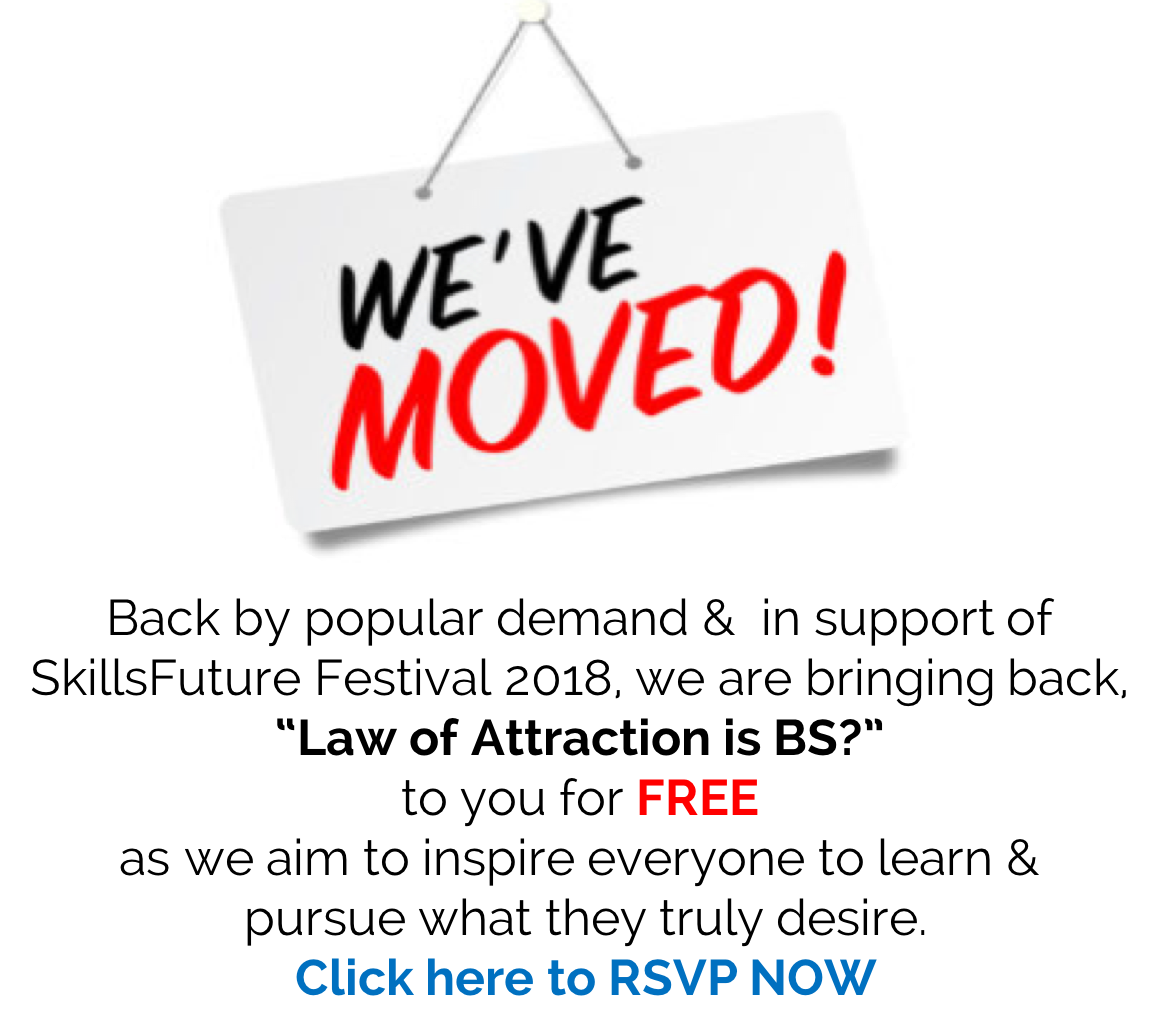 ---


If you are reading this right now.
It is clear to you that whether it's at work or at home, bad relationships are a sure-fire source of stress and unhappiness. If you interview 100 people who are always happy, you might agree that the common denominator would be they have un-usually good relationships.
Wouldn't it be amazing if you are the lucky few who are always happy and have unusually good relationships?

During this workshop, you will learn
1. Why is it when you are in harmony with your colleagues, you will be happier and more productive.
Instead of feeling frustrated with your colleagues and/or managers who we have to work with despite the having 'no chemistry'.
2. Why is your colleague always well-liked by other colleagues and your manager? Why is this colleague always able to attract job recognition and promotion yet it does not happen to you?
4. Why the relationships that you have now is a reflection of what is within you? Why are upbringing and beliefs the 'culprit'?
5. After knowing all this, Is it possible to attract you to only people whom you like?
You are going to feel relieved…
Once you understand what are some of your beliefs and why these beliefs dictate who you are now. When you understand what are some of your beliefs, you are going to feel relieved how effortlessly you can now attract good & better relationships.
I know ...
I know that there is a systematic approach to help you better understand and teach you how to attract more of the good relationships. I also know that it is easy to apply as long you are willing to invest in some time & effort to learn HOW to.
What's important is YOU…
It is not important that we say there is a systematic approach but what's important is YOU find out for yourself. If you apply this systematic approach, you will be able to attract good relationships.. Imagine how you will feel when you are able to constantly attract good relationships at work and even at home?
Agenda
7:25PM – 7:45PM : Registration starts . Coffee & tea is served.
7:45PM – 8:20PM : Sharing by our speaker, Rosemary Phan
8:20PM – 9:00PM : Sharing by our speaker, Eileen Chieng
9:00PM – 9:20PM: Q&A
9:20PM – 9:30PM : Lucky draw
THREE (3) lucky winners will walk awaay with an Identi3 Profiling tests (worth $75)
This is a report which contains your 16 traits with brief suggestions of how you relate to people and activities around you.
ONE (1) lucky winner will walk away with a 2.5-days Paradigm Shift seminar by Bob Proctor (worth $2,650)
You will receive a recording of a 2.5 day seminar held in Los Angeles, USA by Bob Proctor and Sandy Gallagher. They will cover how YOU can have YOUR paradigm shift in great depth and create a new one that frees you to create the life you really want.
NB. This project is supported by Lifelong Learning Council and a nominal fee is required to secure a seat along with the workbook which will be used during the session.
Feedback from the attendees.
Read more here on our Facebook page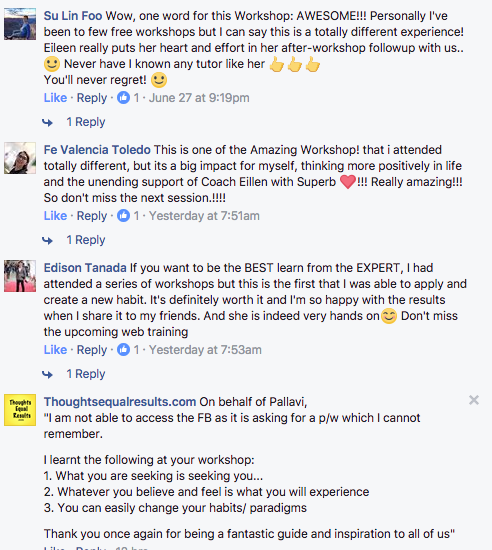 About the speakers

Rosemary Phan is an organisation psychologist and loves helping organization in the areas of the psychology of behaviour of work. She offers her service in the areas of learning and development to ensure organization has the right tools to transform, be culturally fit as well having the right people to meet the organization goals and missions.
Amongst her clients are MSIG, Sompo Insurance, Hewlett Packard, RE&S, Food Republic, Schlumberger, Vodafone Terminal, SATS, CAG, JK Technology, NTUC Foodfare and many more.

Eileen Chieng is the first Proctor Gallagher consultant in Singapore to be mentored by both; Bob Proctor and Sandy Gallagher to help individuals to finally get unstuck and achieve true forward momentum.
In 2015, while Eileen was working for a multinational company she enrolled for Bob Proctor Coaching 13-Months Program. Shortly after Eileen met Bob Proctor in person in Los Angeles, she decided to be a certified PGI consultant. As it allows her to work with individuals to set them up for instant and lasting success through a step-by-step program; 'Thinking into Results'.
Privacy Policy:
I confirm that by providing my personal data and contact details as above, I have agreed to receive messages (in sound, text, visual and other forms) including via the above Singapore telephone number in accordance with the Personal Data Protection Act.