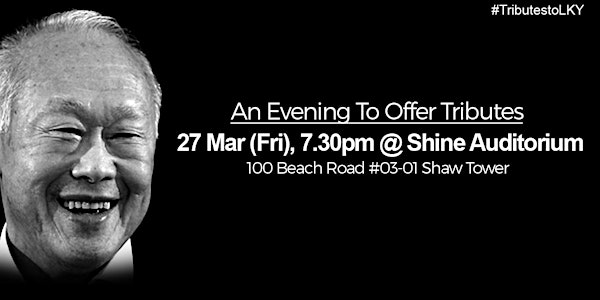 Remembering Mr. Lee Kuan Yew - An Evening To Offer Tributes To Our Founding Father
When and where
Location
Shine Auditorium 100 Beach Rd #03-01 189702 Singapore
Description
A Giant Among Giants
There was a time when people said we won't make it.
Leading an entire nation into the unknown, with only his vision as a guide. Any lesser man would have crumbled at the immense pressure but he remained firm and never wavered.
Here was a man who built a first-world nation where there was none; no land, no resources, and no future.
But from his single-mindedness and pure determination, he created a future – a bright future for all of us.
He took the risks, made the hard decisions and sacrificed his life for the greater good. And because of that we are what we are. And we have what we have.
Let us not keep our thoughts, our prayers and our appreciation be silent or hidden but let us make it known to everyone in Singapore and to the world that…
Although we will miss Lee Kuan Yew, we will NEVER FORGET him.
Join us for this very special evening on Friday 27 March. There is no charge for this special event.
We will have poem recitals, tribute performances and video screenings of Mr. Lee Kuan Yew. Everyone is welcomed to attend. Especially if you are a Singaporean who have enjoyed the fruits of his labour.
He has given up his entire life for Singapore, for each one of us. Will you give up an evening for him?