A webinar collaboration of iDA'SG x SmartUp
About this event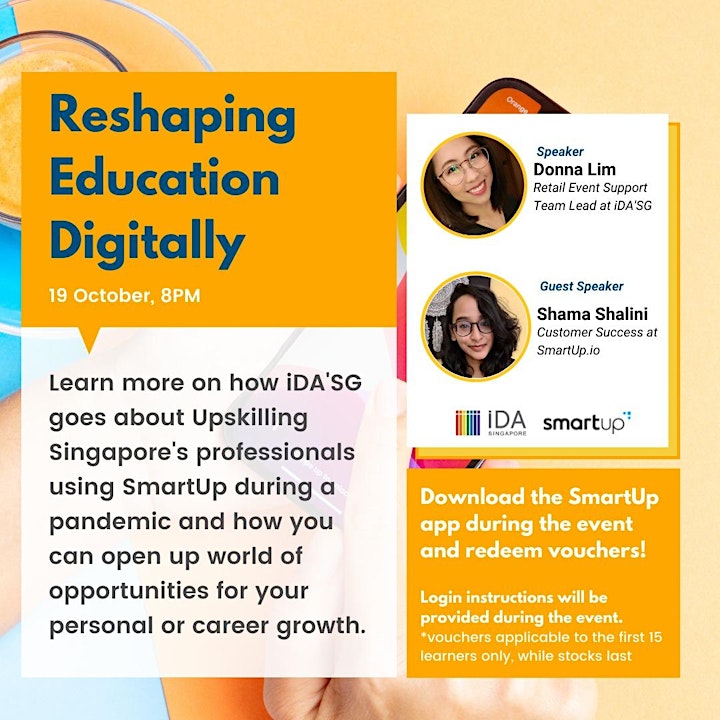 How can you play your part in elevating and upskilling your knowledge to remain relevant for both retail and personal development?
Come hang out with us this 19th October, 8pm to 830pm!
*You could be walking away with Cold Storage vouchers as well!
Who is iDA'SG?
iDA'SG is a retail consulting company with our HQ World Mode Holdings based in Japan. Our founder started this organization more than 20 years ago. With his passion in retail, he has helped over 1000 brands and touched the lives of many in the industry. Amongst all HR services and Retail solutions, iDA'SG is committed to contributing to retail industry with an array of training programs for retail professions to upskill themselves and remain relevant.
Who is SmartUp?
Founded in late 2015 in the U.K., SmartUp.io started off as a peer-to-peer learning app to facilitate knowledge exchange between entrepreneurs from the Founders Forum network, before landing DBS Bank in Singapore as our first commercial client.
Today, we are a mobile-first learning platform where users can create, consume, and share content. Our simple content creation tool, gamification elements, and data analytics allow trainers to easily create highly engaging learning experiences for their users. Our white-labeling solution also supports trainers in launching their own mobile learning app fast, without the hassle of going through app development.