Retweeting Sufism: Appreciating Tasawwuf in the Modern Age

Friday, 21 March 2014 from 20:00 to 22:00 (Singapore Standard Time Singapore Time)
Event Details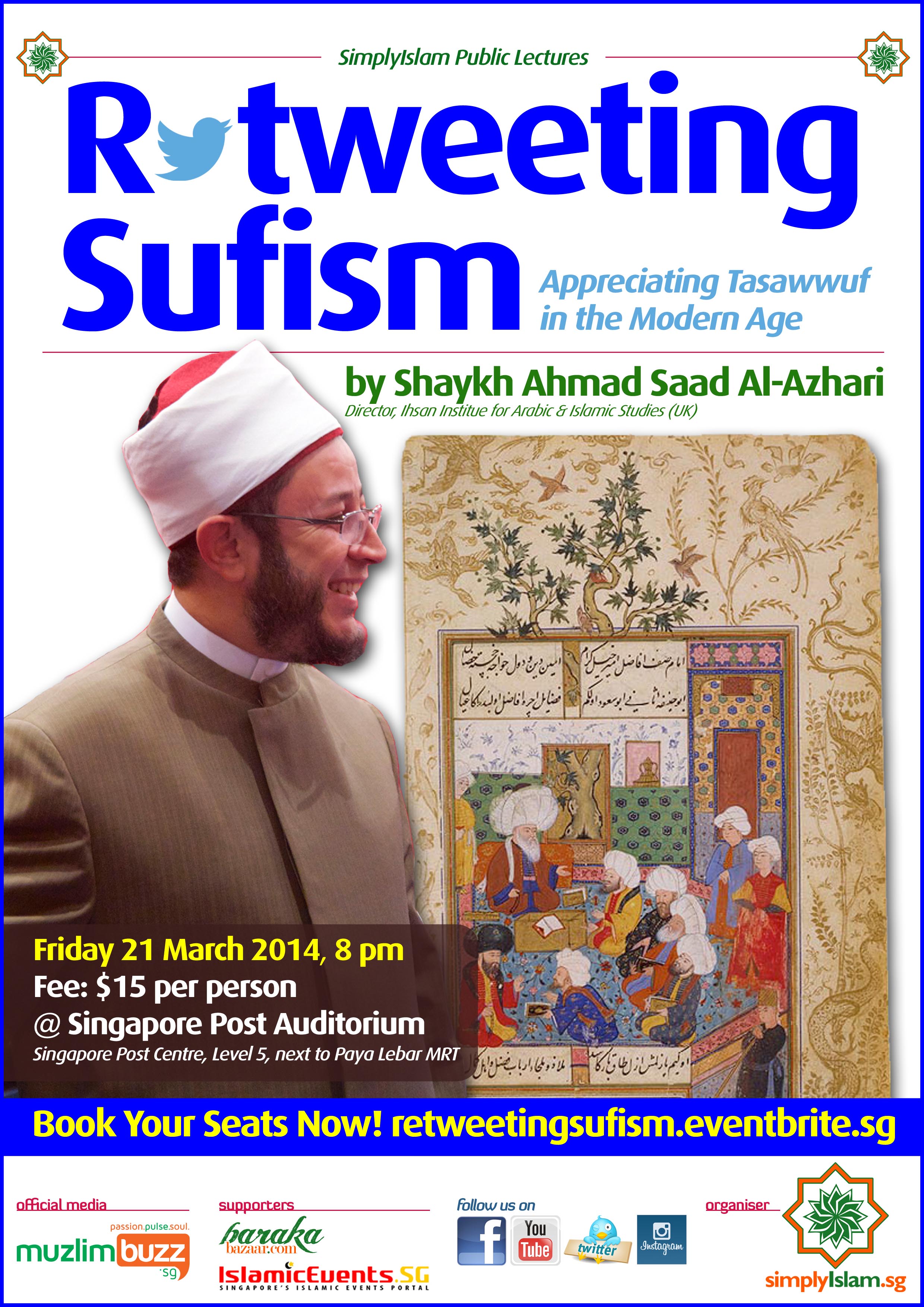 RETWEETING SUFISM
Appreciating Tasawwuf in the Modern Age
SimplyIslam.sg is pleased to present a public lecture by the dynamic and talented scholar, Shaykh Ahmad Saad Al-Azhari on the topic "Retweeting Sufism ~ Appreciating Tasawwuf in the Modern Age".
Event Details
Date: Friday 21 March 2014
Time: 8 pm
Fee: $15 only
Venue: Singapore Post Auditorium
(10 Eunos Road 8, Singapore Post Centre, Level 5, next to Paya Lebar MRT)
Maghrib prayer facilities provided
About the Topic
When Prophet Muhammad (peace be upon him) was asked in the presence of companions about Ihsan by Angel Jibril, he answered it very comprehensively, "Ihsan is to worship Allah as if you see Him, for if you don't see Him then truly He sees you." One's religious belief is considered incomplete without the three dimensions of Islam, Iman and Ihsan. Islam takes care of the outward bodily actions (rituals or ibadah); Iman is the inward belief (faith or aqidah) and Ihsan refers to excellence in conduct and character.
We live in a world of advanced technology and a pervasive socal media, yet many people feel emptiness and they experience a vacuum in their hearts. Can Tasawwuf help? Is Sufism still relevant today? Can Tasawwuf bring meaning to our lives? Find out as the speaker, Shaykh Ahmad Saad, shares his knowledge and thoughts on this subject.
Payment Details
Payment by major credit cards and charge cards are accepted through this Eventbrite website.
For payment by cheque or pay-at-the-door, please register through this Eventbrite website and click "Show other payment options" and select "Pay Offline". 
Cash payment can also be made personally at SimplyIslam during office hours: 152 Still Road Singapore 423991.
For Cheque payment, please issue a crossed cheque payable to As-Siddiq Centre for Islamic Studies Pte Ltd. Please write your name and contact number on the reverse side of the cheque indicating the course or event name and mail to: As-Siddiq Centre for Islamic Studies Pte Ltd, 152 Still Road, Singapore 423991.  Payment should reach 

us 3 days before the event.

Call Sis Saira Elley at Tel 65474407 for any clarification.
About Shaykh Ahmad Saad Al-AzharI
Shaykh Ahmad Muhammad Saad Ash-Shafi'ie Al-Azhari Al-Hasani was born into a family of scholars whose lineage goes back to the Prophet (salla Allahu alayh wa sallam) through Sayyidna Al-Hasan ibn Ali (radia Allahu anhu) in the northern Egyptian governorate of Monofiyyah, in the Nile Delta. Many great scholars of Islam have come from this governorate including people like Shaykh Al-Islam Ibrahim Al-Bayjouri, Imam Tajuddin As-Subki and Taqiyuddin As-Subki, Shaykh Al-Islam Ash-Shanawani and many others. As the custom of the family was to memorise Qur'an at an early age, Sheikh Saad completed the memorisation of the Holy Qur'an at the age of ten at the hands of his father and studied basic Arabic and Islamic sciences with focus on Arabic grammar and balaghah (rhetoric) before enrolling into Al-Azhar system of schools where he spent almost 17 years of his life graduating with a B.A. Honours in Islamic Studies in English. Shaykh Saad delivered his first Khutbah at the age of 15, led his first prayer at the age of 13 and since then, he has been involved in Da'wa work and spreading traditional knowledge of Islam. He toured the world as an Imam, speaker and lecturer; he visited Canada, USA, Germany, Malaysia, Sweden and is currently settled in the UK. He is the Founder and Director of the Ihsan Institute for Arabic & Islamic Studies, and was the former Imam of North London Central Mosque. [Click here for full biodata]
Do you have questions about Retweeting Sufism: Appreciating Tasawwuf in the Modern Age?
Contact SimplyIslam.sg
When & Where

Singapore Post Auditorium
10 Eunos Road 8
Level 5
Singapore, 408600
Singapore

Friday, 21 March 2014 from 20:00 to 22:00 (Singapore Standard Time Singapore Time)
Add to my calendar
Organiser
Traditional. Progressive. Dynamic. Experience the Beauty. SimplyIslam.
The As-Siddiq Centre for Islamic Studies Pte Ltd, commonly called SimplyIslam, is a private organisation dedicated towards education, social & community development, literary services and humanitarian services to facilitate progression of society. SimplyIslam is committed to the retention of tradition, culture & esteemed values whilst integrating contemporary challenges facing humanity today.  SimplyIslam's mission reflects its fresh and innovative approaches to communicate the beauty of Islam, whilst being deeply rooted in Islamic Sunni traditions, with a progressive & dynamic approach to modern life.