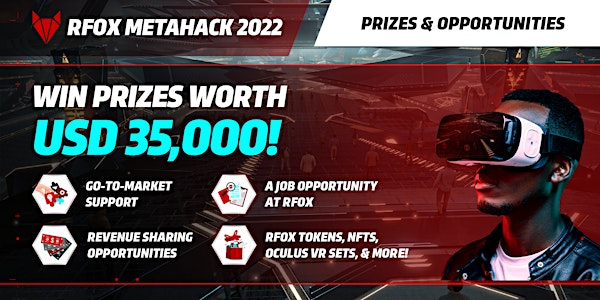 RFOX MetaHack 2022: Info Session
The RFOX MetaHack aims to empower everyone to play, create, and earn in an immersive metaverse without borders. Learn how you can join in!
About this event
RFOX is building an ecosystem that would empower creators, users, and businesses to benefit from the Web 3.0 revolution and simplify digital inclusion for all.
The RFOX MetaHack 2022 is your chance to leverage on the RFOX ecosystem to build powerful new applications to help everyone thrive in an immersive metaverse. If you have the skills to develop Web 3.0 based solutions, this challenge is for you!
This Info Session is designed to serve as a complete introduction to the MetaHack for all prospective participants. You will get to:
1. Find out more about the RFOX ecosystem, products, and services.
2. Dive deep into our challenge statements and resources.
3. Get your burning questions answered.
4. Meet the amazing team behind RFOX!
Programme Highlights
- RFOX MetaHack Briefing
- Introduction to RFOX
- CS 1: Mobile Games (Android / iOS)
- CS 2: Games SDK (Android / iOS / HTML 5)
- CS 3: NFT Factory
- CS 4: RFOX Companion (Android / iOS)
- CS 5: VALT (Metaverse) Connected Worlds
- CS 6: VALT (Metaverse) Shop Construction Set
- Q&A
About RFOX
RFOX was founded with the purpose of becoming a global leader in immersive metaverse experiences focused on retail, entertainment, community, and rewards. The company aims to empower people to play, create, and earn in a metaverse without borders. The core of RFOX's philosophy is digital inclusion, regardless of one's geographical location.
Learn more about RFOX at https://www.rfox.com.
If you have any questions, please write to hackathon@padang.co.