Description
IN COLLABORATION WITH VAMP PRODUCTIONS, SINGJAZZ AND COLLECTIVE MINDS, "COOL CATS GOES LARGE" PROUDLY PRESENTS RICHARD BONA LIVE IN SINGAPORE FOR ONE NIGHT ONLY - 6 NOVEMBER 2018
Dedicated to bringing world-class international acts to Singapore, Cool Cats goes beyond its walls to present Grammy Award-winning Cameroonian jazz artiste, RICHARD BONA in the inaugural showcase of COOL CATS GOES LARGE.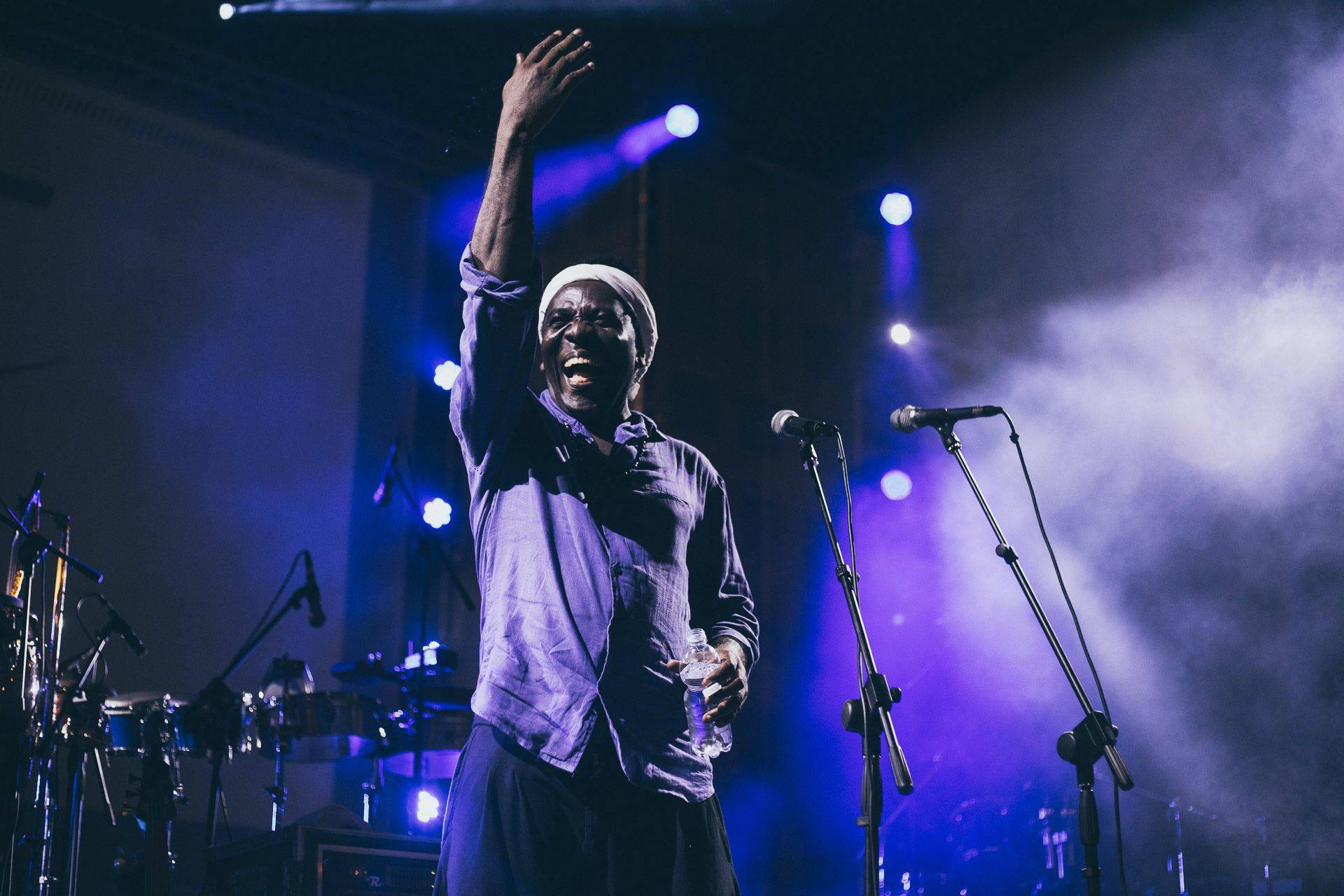 Cool Cats is proud to present Grammy Award-winning bassist and vocalist Richard Bona, known for his wildly inventive solos on the electric bass paired with his talent for hypnotising arrangements of African polyrhythms.
Nicknamed "The African Sting", Bona's ability to innovate and fuse diverse genres and cultures from Jazz, Pop, Bossa Nova, Afro-Beat and Funk across Africa, the Americas and Europe, has earned him international recognition.
Having worked alongside music luminaries including Quincy Jones, Chaka Khan and John Legend, Bona has dedicated his music to share issues affecting the oppressed in his homeland Cameroon - reflected in his first three albums, "Scenes From My Life", "Reverence" and "Munia".
His stories transcend generations and cultures, connecting to audiences on a deeper level. Singapore, don't miss out on this sensational night with one of the most iconic musicians of this generation.
Join us and discover the Cool Cats way.
Listen to Richard Bona on Spotify or iTunes.
What's Richard Bona up to? Follow him on the road on Facebook and Instagram .
---
TICKETING INFORMATION
*All tickets are standing.
*Tickets may be purchased at the door, subject to availability.
EARLY BIRD TICKETS $78 | ADVANCE $88
*Early Bird and Advance tickets are for general admission into the venue.
VIP TICKETS $128
*VIP tickets are for general admission into the venue and include guaranteed front row standing and food & drink service.
VENUE FLOOR PLAN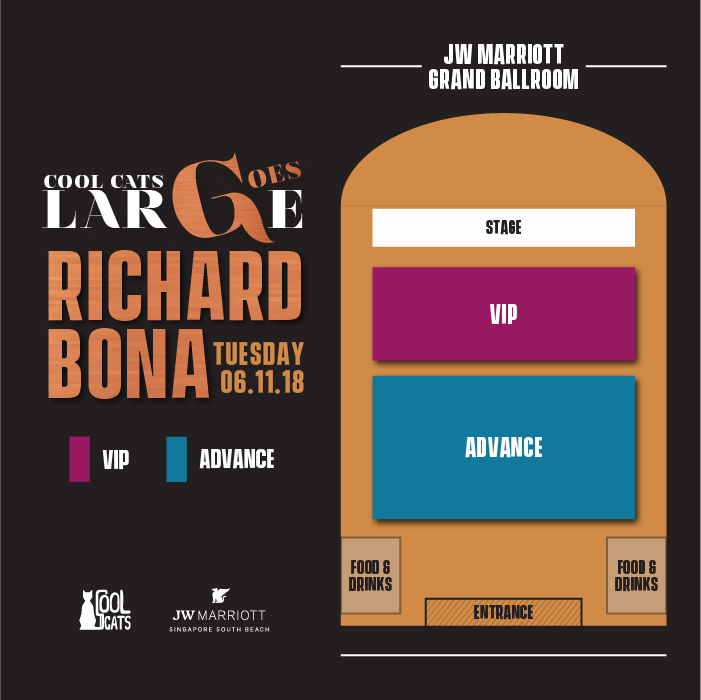 EVENT DETAILS
Doors open at 8.00pm, performance starts at 9.00pm.
There will be no intervals during the concert.
Printed or electronic ticket to be presented at the door for admission.
RATING / AGE LIMIT
No admission for infant in arms and children below 18 years old.
Admission is subject to tickets produced at the entrance.
TERMS AND CONDITIONS
Where reasonably necessary, the organiser of the event reserves the right to make alterations to the published event programme.

Upon confirmation of your order for tickets, no exchange of tickets will be made under any circumstances and tickets are not transferable. The resale of tickets at any price is prohibited. The organiser reserves the right to cancel any tickets that have been transferred or resold and to deny any such ticketholder entry.

The organiser/venue reserves the right without refund or compensation to refuse admission/evict any person(s) whose conduct is disorderly or inappropriate or who poses a threat to security, or to the enjoyment of the services by others.

The ticketholder agrees to submit to any search for any prohibited items including but not limited to weapons, controlled, dangerous and illegal substances and recording devices.

No video recording of the concert is permitted.
REFUNDS/EXCHANGES
Tickets cannot be exchanged or refunded after purchase unless the performance is cancelled or rescheduled (subject to below)

In the case the event is postponed or cancelled, a postponement publicity notice or a cancellation publicity notice

respectively shall be placed in the media by the organiser.

The organiser shall at its own discretion place notices advising procedures for requesting a refund and the period and time within which the ticketholder may request a refund.




It is the responsibility of the ticketholder to ascertain whether the event has been cancelled or re-scheduled and the date and time of the re-scheduled event. Where an event is cancelled or re-scheduled, the organiser will use reasonable endeavours to notify the ticketholders using the details provided at the time of ordering. It is not guaranteed that ticketholders will be informed before the date of the event.
ADDITIONAL INFORMATION

Food and drinks are available for purchase at the venue.
No outside food and drinks are allowed into the venue.
ACCESSIBILITY INFORMATION
Wheelchair users: please contact our Hotline at +65 6818 1920 prior to making a booking.
PARKING
Parking is available at South Beach, entrance via Nicoll Highway.
Monday to Friday
$2.40/hr from 7am to 5pm
$3.50/hr from 5pm to 11:59am
$3.50/hr from 12midnight to 7am the following day
Valet services are available at the pick-up / drop-off point at the Hotel Lobby.