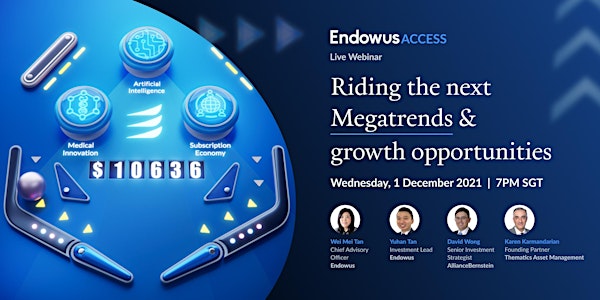 Riding the next Megatrends & growth opportunities
Learn about the key megatrends making waves in the market, and how do fund managers tap on these opportunities in investing.
About this event
Megatrends — powerful, transformative forces that have the capacity to shift paradigms and redefine the world we live in. We've seen how companies at the innovation forefront of electricity, automobiles and the Internet have performed tremendously well in the past. How can we invest in the next big thing, and how do fund managers identify and select these companies?
Hear from our expert speakers as they share insights on:
What are the key megatrends you should have exposure to?
How has interest in thematic investing and structural trends changed over the years?
Would an active investment strategy do better than a passive investment strategy?
Watch the session here:
https://youtu.be/C1eLGHZdoBg
About the speakers
David Wong, Senior Investment Strategist, AllianceBernstein
David joined AB in 2015, bringing two decades of experience in global equity markets to the firm. Prior to joining AB, Wong was a partner at Janchor Partners, a Hong Kong–based long/short equity hedge fund with US$2 billion in assets under management (AUM). Before that, he set up the Hong Kong office for GMT Capital, an Atlanta-based long/short equity hedge fund with $5 billion in AUM, where he served as portfolio manager and head of Asian investments. Over Wong's eight years at the two hedge funds, he was responsible for global investments in technology stocks and served as a generalist portfolio manager for the Asia-Pacific region, including Japan. He was also the founder and managing director of Mobile Adventures, a pan-Asian wireless content company. Wong started his career as an equity research analyst at Bankers Trust and Deutsche Bank; at Deutsche, he managed a team of five associates as the firm's regional semiconductor analyst. He holds a BA in political science from Yale University.
Karen Karmandarian, Founding Partner, Thematics Asset Management
Karen is a founding partner of Thematics Asset Management and is the Co-Manager of the AI & Robotics fund. Karen has 24 years of Finance industry experience: he began his investment career in 1994 with Société Générale as a bank analyst. In 1996 he joined the Aurel-Leven brokerage firm to set up and lead the Credit and Research department and in 1999 moved to the 'buy side' in a similar role with Ixis Asset Management in Paris, where he spent five years. He subsequently joined Pictet Asset Management in 2004 based in Geneva, where he spent 14 years, managing first the High Yield Credit Fund before becoming a Senior Equity Portfolio Manager in the Thematic Equities team in 2007. Karen then moved to the latest project within Pictet Thematics, the Global Thematic Opportunities Fund, a 'best ideas' portfolio which leverages the knowledge of each and every Thematic strategy.
Wei Mei Tan, Chief Advisory Officer, Endowus
Wei Mei has over 20 years of financial markets experience. She has been in key leadership positions across private banking, investment banking and asset management. Wei Mei was most recently a Managing Director at Deutsche Bank and was the Global Co-Head of Advisory & Investment Solutions. She was previously at Credit Suisse, UBS, JP Morgan and Temasek. In the last decade, she has successfully launched digital advisory platforms and discretionary mandate solutions at many of these firms.
Yuhan Tan, Investment Lead, Endowus
Yuhan focuses on investment due diligence and portfolio construction. He also works with other departments on investment-related matters. He was previously at Mercer and Cambridge Associates, two investment consulting firms that provide investment portfolio management and advisory services to institutional investors. Yuhan was also with Hawksburn Capital, a multi-family office that provides investment advisory services to high networth individuals. He was responsible for manager/fund research and due diligence and also participated in investment committee meetings. Yuhan graduated from Singapore Management University with a Bachelor of Science in Economics.
Terms & Conditions
Do note that CRM emails may be used for marketing purposes.