Rights To The City Public Housing Liveability Conference
This conference will focus on mental and physical health, public spaces and the built environment as part of a complex web of PPR issues.
When and where
Location
Pusat Kreatif Kanak-kanak Tuanku Bainun - TTDI Taman Tun 48 Jalan Tun Mohd Fuad Kuala Lumpur, Kuala Lumpur 60000 Malaysia
About this event
Liveability advances the discussion of basic human right from the right to shelter to the right to a decent quality of life for all. While Malaysia has successfully ensured the majority of its population have access to housing, the current PPR models found in our cities needs to be improved and enhanced from the perspective of liveability. These gaps in PPR spaces have been further amplified in the wake of the pandemic that continues to impact all lives to this day. Liveability indicators such as a sense of safety, physical health, mental health, access to services, mobility and transport, social participation opportunities, environmental factors (such as air quality), and cost of living have become more important in this new norm and must be addressed to avoid widening the disparity between the haves and have nots.
In an effort to highlight key issues and delve into possible sustainable solutions, this June, Think City with the support of Citi Foundation will be presenting Malaysia's first ever Public Housing Liveability conference. This inaugural one-day conference will focus on several factors that contribute to liveability namely mental and physical health as well as public spaces and the built environment. Inline with the conference theme, we will also explore ways to advance public housing liveability through advocacy, cross sector collaboration, research and policy. Local and international organisations from the public, private and social sector join the lineup of speakers and panelists to bring their expertise and experience to the conference.
Policymakers, the private sector, community representatives, research and academic institutions, and civil society organisations are invited to join the conference and be part of a much-needed conversation to advance quality of life for all.
For programme updates, visit thinkcity.com.my/R2C.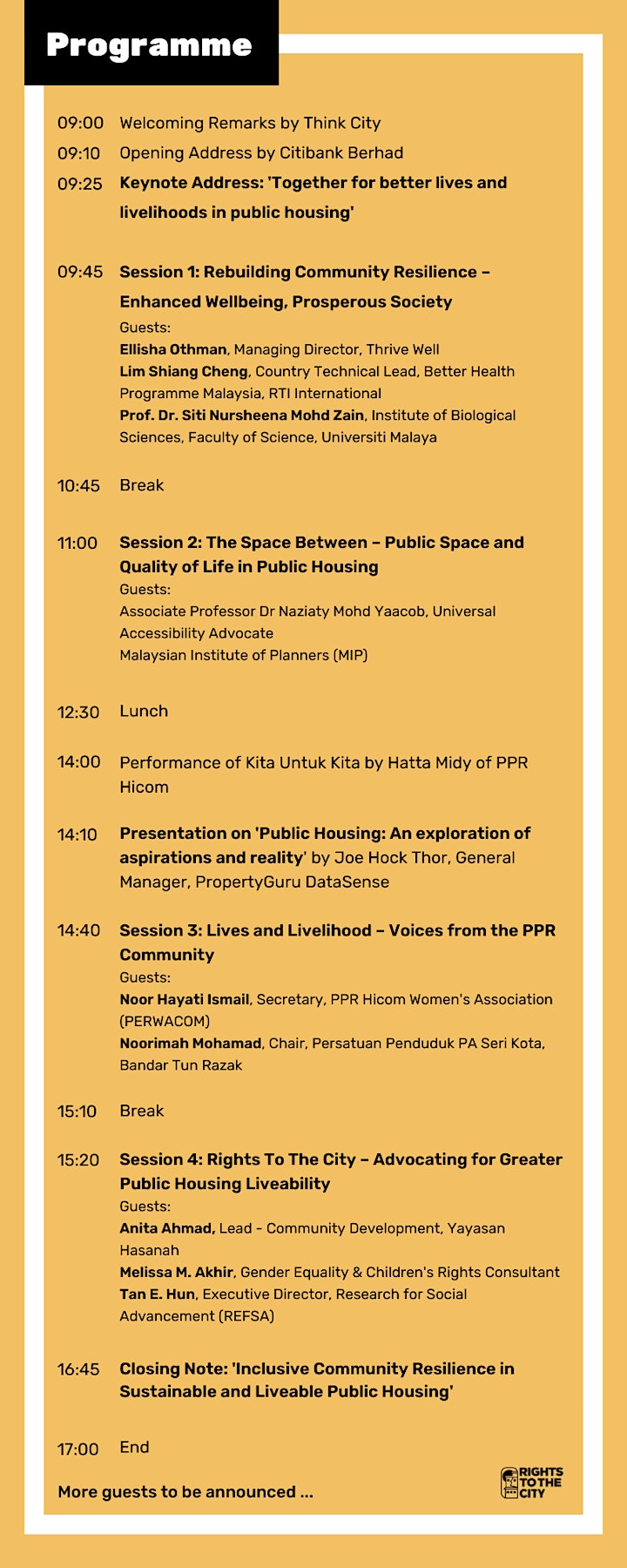 Registered participants shall receive the final programme closer to the conference date.