Come together over a relaxing afternoon and hear first-hand insights from cancer survivors about their breast cancer journey! Be empowered..
About this event
(Please join the session via: meet.google.com/adx-dang-irq)
Into our 4th year of raising awareness of breast cancer awareness and returning this year from our first virtual event last year, we are going online again this year with Rise Shine - Empower.
From our inaugural Pink Tea Party, we stay committed in our mission to provide a safe space for fireside conversations as we delve deep into Issues that matter, issues close to our hearts.
These annual sessions are designed to bring together inspiring women to share experiences and life lessons as well as expert insights on creating and raising awareness about early breast cancer detection and supporting wellness and a healthy lifestyle.
What's in store :
* What you need to know about breast cancer from Senior Consultant Medical Oncologist Dr Loo Soo Kien, Sue of The Harley Street Oncology Centre
* Special Guest, Siti Nur Aishah Jamil will share what goes through her mind when she learnt about her diagnosis
* Real life experience of a breast cancer survivor, Azlena Asri
As in previous years, we are also raising funds for Breast Cancer Foundation Singapore (BCF).
Donate any amount to BCF via the QR code or purchase the Love Shawl.
Rise Shine - Empower is proud to be supported by By Marlena, one of the leading modest fashion brands in Singapore.
The lovely women behind By Marlena is bringing in the Love Shawl, which has been specially designed to show support for Breast Cancer Foundation Singapore (BCF). It is our hope that the Love Shawl will be a symbol of tenacity and courage we all have deep in us.
The Love Shawl are available for purchase at S$21.00 at www.by marlena.com
All proceeds from the sale of the Love Shawl will go to BCF.
We invite you to open your mind, listen without judgement and empower yourself to greater health and wellness.
Thank you!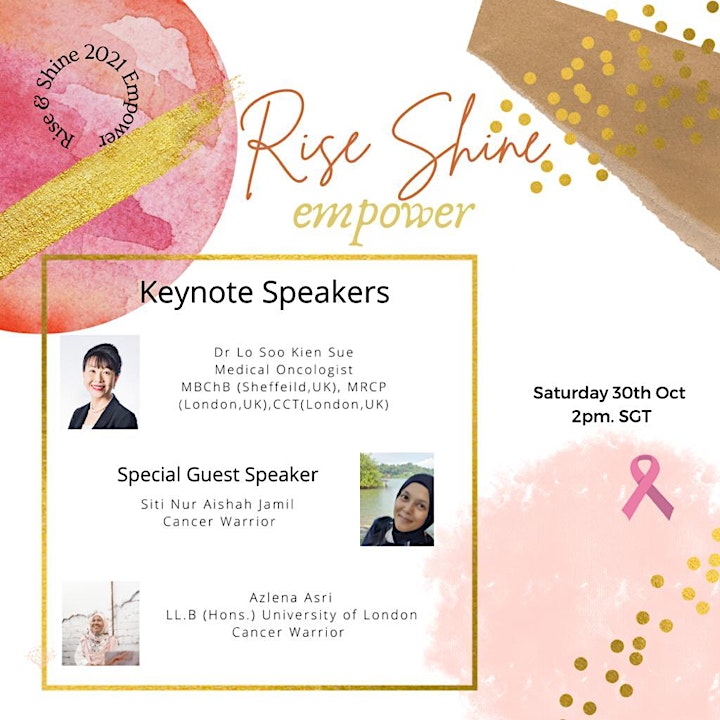 Organiser of Rise, Shine, Empower: An event to raise Breast Cancer Awareness