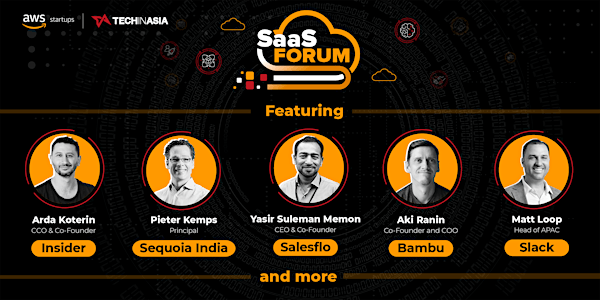 SaaS Forum
Uncover opportunities and insights on SaaS trends, outlook for 2022 and how to build your business playbook.
About this event
In Southeast Asia, large rounds of SaaS funding have been rising steadily over the last 5 years - particularly among late-stage vertical SaaS. COVID caused a spike in adoption of SaaS, and there's no slow-down in sight. Gartner forecasts that end-user spending on public cloud services to reach $482 billion in 2022.
Join AWS SaaS forum on March 8, to uncover opportunities and insights on:
SaaS trends and outlook for 2022
How to build your SaaS playbook
Best practices on scaling a SaaS business
Agenda
Session 1: General trends & innovation (3.00-3.35 PM SGT)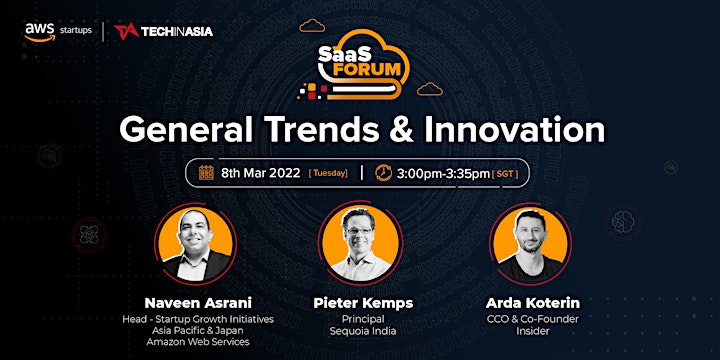 Are we going to see our first big SaaS IPO in SEA in 2022? Which are the next unicorns after Patsnap and Trax in the region? What are the key trends and how can SaaS startups take advantage of these opportunities? Join this session to learn from industry leaders what strategies have demonstrated themselves to be best-practice in building a successful SaaS startup in the region, and how you can implement them in your decision making.
Session 2: The SaaS Playbook for 2022 (3.40-4.20 PM SGT)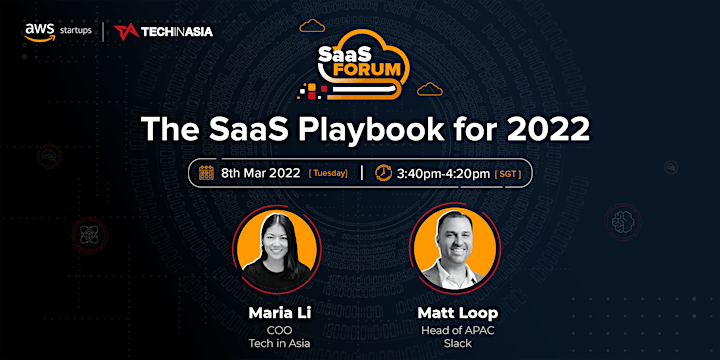 In this session, learn the implications of the evolving landscape on start-ups' considerations of product market fit, revenue-generation and go-to-market strategies. Our speakers will dish out practical tips on achieving product-market fit and growth levers that will help you build your own business playbook, and scale.
Session 3: Multi-tenant SaaS (4.25-5.10 PM SGT)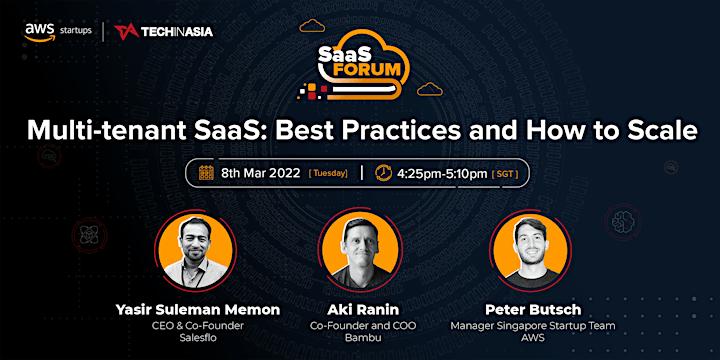 Uncover best practices for multi-tenant SaaS and how to scale. Explore AWS customer success stories by Aki Ranin, Co-Founder & COO of Bambu and Yasir Suleman Memon, CEO & Co-Founder of Salesflo to uncover common denominators and unique x-factors that led to success. Scale your SaaS playbook which will be presented by Peter Butsch, AWS Singapore Manager.
Who should attend
SaaS professionals, particularly senior leaders in early-stage startups across ASEAN.
Speakers
Aki Ranin, Co-Founder & COO Bambu
Arda Koterin, CCO & Co-Founder, Insider
Matt Loop, Head of APAC Slack
Pieter Kemps, Principal, Sequoia India
Yasir Suleman Memon, CEO & Co-Founder Salesflo
About Tech in Asia
Tech in Asia (TIA) is the largest English-language technology media company that focuses on Asia. From the latest news and hottest trends to the boldest startups and strongest titans, TIA covers everything tech in the region. The company aims to build Asia's tech and startup community by bridging the gap between businesses and the information, talent, and connections they need.
About Amazon Web Services
Amazon Web Services provides startups with a low-cost and easy-to-use infrastructure that they can use to scale and grow their businesses. With AWS Activate, startups get access to the resources they need to quickly get started on AWS - including credits, technical support, training, and more.
---
By registering, you're giving your consent to receive marketing and promotional emails from Tech in Asia and its partners.