Description
SAFe 4 DevOps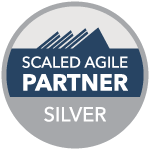 SAFe® DevOps Certification Training Class (2 days) With SAFe® 4 DevOps Practitioner Certification

Become a key driver of DevOps transformation—and enable your enterprise to maximize the flow of value— when you certify as a SAFe® 4 DevOps Practitioner. This two-day course provides a comprehensive overview for understanding the DevOps skills needed to accelerate time-to-market by improving the flow of value through the Continuous Delivery Pipeline. You will map the current value stream through the delivery pipeline from idea to cash, and identify practices that will eliminate bottlenecks to flow. The course will build an understanding of the complete flow of value from Continuous Exploration to Continuous Integration, Continuous Deployment, and Release on Demand.
Introducing DevOps

Mapping your Continuous Delivery Pipeline

Gaining alignment with Continuous Exploration

Building quality with Continuous Integration

Reducing time-to-market with Continuous Deployment

Delivering Business Value with Release on Demand

Taking action
Learning Goals
After attending the class, attendees should be able to:
Understand the CALMR approach to DevOps, why it is so important, and be able to explain it to others
Understand the importance of continuous integration, continuous testing, and be ready to apply it
Apply the concepts of continuous security
Map their current delivery pipeline
Measure the flow of value through the delivery pipeline
Identify gaps and delays in flow
Improve the process of exploring customer needs
Improve the process of developing, building, and integrating continuously
Improve the process of continuously deploying to staging and production environments
Improve the release process
Execute an action plan for their DevOps transformation

Facilitator Bio:
John Okoro is the Head of Agile Practice for Orbium, and founder / creator of Auspicious Agile, based in Singapore. John has contributed to InfoQ on the topic DevOps, and Distributed Agile teams and leadership. John has founded Agile services practices for Rally Software in Asia and for a mid-sized US management consultancy. John is the author of the book "A Guide to Distributed Agile Framework". John is a frequent speaker at Agile, DevOps and industry conferences. He has also taught several university courses in the business and technology space (including Enterprise Agile Scaling at National University of Singapore, and for the Singapore Skills Future government initiative).
Over two decades John has proven success in numerous roles as an Agile & DevOps leader. He has worked with numerous Fortune 500 & Global 1000 companies including Disney, JP Morgan, Allianz, Toyota, and Accenture. John has experience with start-up and entrepreneurial ventures and working with government clients. His largest Agile scaling implementation with an entertainment industry client had a $1 billion USD budget, with 500+ team members that spanned three continents. John also focuses on using enterprise Agile and DevOps together to deliver the highest value, as quickly as possible.
Returns & Refunds Policy
Training Registrations
Full refunds will be issued for cancellations greater than 14 days from the start of the course and are subject to a S$280 processing charge. For cancellations between 8 and 14 days from the start of the course, registrants may change to another Orbium SAFe certification course of equal or lesser value. For cancellations 7 days or less from the start of the course, no refunds will be issued or changes allowed.
Event Cancellation Policy
Orbium reserves the right to postpone or cancel any event if there are insufficient registrations or if presenters are unable to attend due to illness. If necessary, you will be notified no later than 7 days prior to the event and all registration payments will be refunded promptly.
* Contact us for information on student and SAFe partner discounts.