Sales Have Ended
Ticket sales have ended
Thank you for registering. Our entries are closed
Sales Have Ended
Ticket sales have ended
Thank you for registering. Our entries are closed
Description
OUTDO YOURSELF WITH SALOMON
Salomon and Orienteering Singapore ends the #playdate series with a formal race to pit the best of you guys against some of the best names in the Orienteering scene!

Among them include former world champions and gold medalists who are now in the Seniors and Masters categories. They are travelling down from China after their own wirlwind tour of the World Cup events in Guangzhou.
So, If you are an outdoor person, enjoy running on hills and a good doze of intellect - Orienteering will be the sport for you! Come try out the sport and also explore the hidden urban town of Clementi!

EVENT DETAILS
Date: Sunday 3rd November 2019
Time: 9am to 11am
Venue: Block 323 Clementi Ave 5 Void deck
Look for an orange / white flag icon and Salomon flag to find our meeting ground!
RACE FORMATS & CATEGORIES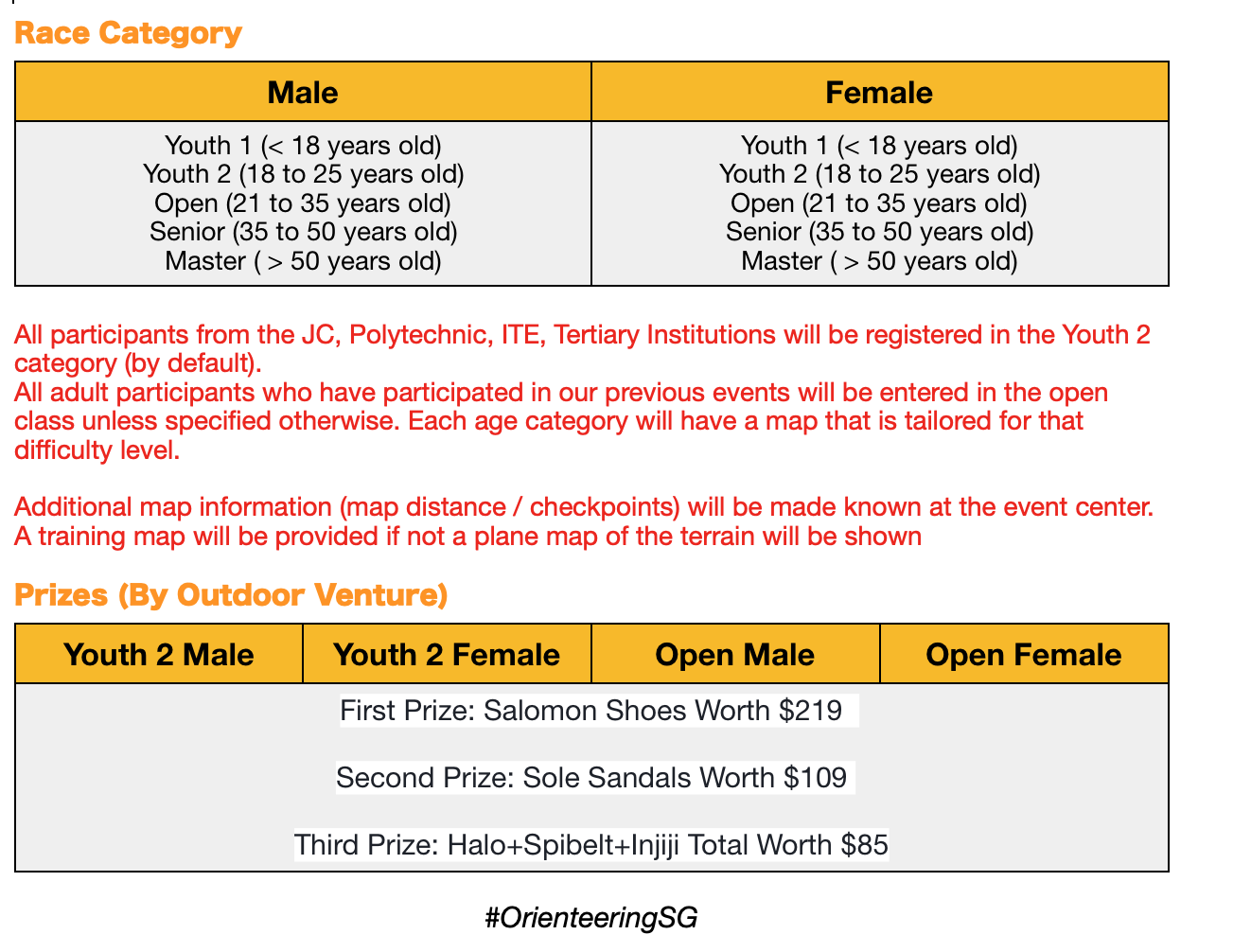 You will be classified into the gender / age class accordingly. If you would like to try a different category, please contact us.
Race Format: Sprint Orienteering - Athletes are issued a map with a fixed running order. They are to read their map and follow the running sequence (of the checkpoints). Person with the fastest time and accuracy in their navigation wins.
*Incomplete checkpoints will be deemed as "Did not finish" and would not be taken into consideration of top rankings
Bring along a pair of good shoes, a bottle of water and some snacks (optional: Compass)
EVENT PRIZES (By Outdoor Venture Singapore)
For the BEST Youth and Open Category local Runners!
First Prize: Salomon Shoes Worth $219
Second Prize: Sole Sandals Worth $109
Third Prize: Halo+Spibelt+Injiji Total Worth $85
WHAT TO EXPECT?
Light refreshments will be provided.
What you will be experiencing: A simple map course for you to run
Who will you be interacting with: Orienteering Singapore athletes and team coaches, fellow trail enthusiasts and also the world masters in Orienteering (on a stopover tour)
Any experience needed: No
Bag Deposit: No, please help us to travel light.
RACE PROGRAMME
0830 - Registration / Training Map
845am: Opening by Singapore Orienteering Federation – What is Orienteering ?
850am: Salomon brand introduction
9am: Technical briefing on the sport / safety.
9:15am: Salomon banner group photo
920am: First Start Time
1130am:Event Close