Sapling Protection Action (SPA) involves removing competing vegetation, clearing the stem base and replenishing leaf litter around saplings
About this event
SPA is being conducted at KCNP at two plots which require attention. The number who can participate is limited to 20 per session, due to COVID-19 safe management measures to keep everyone safe, responsibly.
COVID-19 precautions
Safety is our priority.
Please DO NOT SIGN UP for this event if you are:
not fully vaccinated (an individual is considered fully-vaccinated two weeks after he or she has received the full regimen); OR
60 years or older (the current COVID-19 situation places you in the highly vulnerable group, and we want to ensure your safety)
On the day of the event,
You must be FREE OF FLU symptoms: DO NOT TURN UP if you are experiencing elevated temperature, sniffing, a sore throat, cough or shortness of breath on the morning of the activity - instead visit a GP if you have any of these symptoms.
Wear your mask before leaving the house, as required by law.
Turn on your Trace Together App or carry your TraceTogether token
Once you reach the site, please maintain a safe distance of TWO METRES at all times.
When in doubt, remember that safety is our priority.
Important points to note:
Participants MUST wear covered shoes; we will turn away participants with inappropriate footwear
Participants MUST wear long pants to work in the area
We strongly recommend that you bring a hat or cap to help with shelter from the sun
Always hydrate - bring at least 1 litre of drinking water
Bring some snacks in case if you are the sort who gets hungry quickly
Bring insect repellent, especially if you are vulnerable to insect bites
Bring a set of change if you are the type who gets drenched following physical activities
Bring your own gloves, if you have a pair
The steps to SPA include:
Scraping grass back from the sapling (~1 meter radius)
Hand-weeding persistent grass sprouts at the base
Cutting off and clearing any creepers on the sapling
Applying leaf litter around the base of the sapling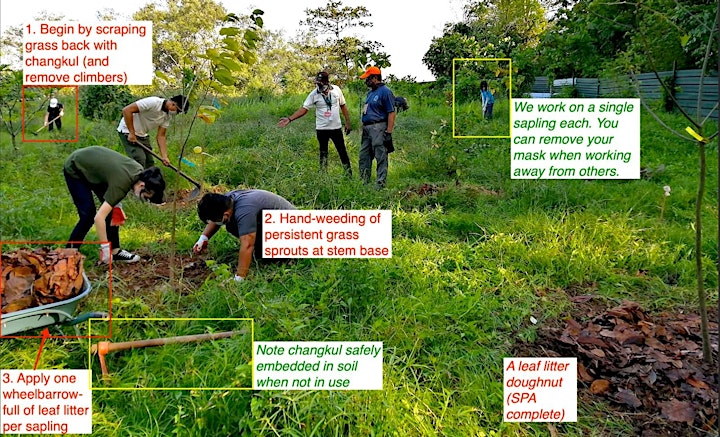 Organiser of Sapling Protection Action (SPA) at Kranji Coastal Nature Park