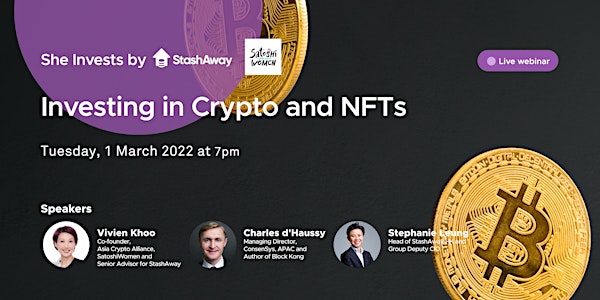 SatoshiWomen x She Invests by StashAway: Investing in Crypto and NFTs
Get an insight into investing in blockchain, cryptocurrencies, NFTs, and more.
About this event
The link to the webinar will be sent an hour before the session so do check your email inbox.
Agenda
30-minute Master Class: Crypto 101
By SatoshiWomen
What are Digital Assets?
Safety, Custody & Security - Why are these important?
Bitcoin & Stablecoin - how many other coins?
Is crypto for my portfolio?
Exciting NFT trends shaping the future
"A woman's best protection is a little money of her own." Clare Booth Luce
30-minute fireside chat
Are you crypto-curious, but not sure where to start? Maybe you have heard of the metaverse, NFTs, and blockchain and want to know how they will impact your life? Charles, Vivien and Stephanie will share their individual journeys into blockchain and cryptocurrencies, discussing the latest trends in the asset class and some of the movers and shakers of the industry. They will share their own perspective of gender disparity in crypto investing and why it exists.
15 min Q&A
Speakers:
Vivien Khoo, Senior Advisor for StashAway and Co-founder, Asia Crypto Alliance and SatoshiWomen
After a long career in senior compliance and regulatory roles, Vivien stepped into the world of cryptocurrencies in 2019 where she joined BitMEX, one of the leading crypto derivatives exchanges. Vivien took on a number of different roles during her time there and was the Global Chief Operating Officer and Interim CEO. Prior to joining BitMEX, Vivien spent close to two decades in Goldman Sachs where she was the managing director of Goldman Sachs' Asia Pacific Ex-Japan Compliance division.
Today-as the worlds of traditional finance and digital assets converge, Vivien occupies a number of roles that capitalize on this experience in bridging across stakeholders to help shape the emerging world of digital-asset powered financial services. She is the co-founder and chair of the Asia Crypto Alliance, an industry association that promotes the growth and development as well as safeguarding the reputation of Asia's Virtual Asset Service Providers. Vivien is a Board Advisor on Fusang, Asia's first fully licensed and regulated digital financial ecosystem for security tokens and assets. She is also a Senior Advisor on StashAway, a wealth management service provider with more than USD 1bn of assets under management.
An ardent advocate for diversity and inclusion, Vivien is the founder of Digital Female Leadership Network and a co-founder of Satoshi Women, which provides education, access and inspiration to women from all walks of life.
Charles d'Haussy, MD of ConsenSys, APAC and Author of Block Kong
Charles d'Haussy is Asia managing director at ConsenSys, a leading blockchain engineering company. Among his responsibilities, he leads ConsenSys' project on central-bank digital currencies with Hong Kong Monetary Authority and Bank of Thailand.
Prior to this, Charles served as head of fintech with the Hong Kong government (InvestHK). In that capacity he helped found and scale Hong Kong Fintech Week, and supported the growth of over 450 fintech companies.
He has 15 years of prior experience in Hong Kong's private sector and is licensed to invest and deal in securities. In 2018, Charles was elected as a Top-50 fintech influencer in Asia.
He studied in France at Rennes International Business School and in Guangzhou, China at Sun Yat Sen University. He is a certified Bitcoin professional and studied blockchain business strategy at Be9 London.
Stephanie Leung, Head of HK & Group Deputy CIO, StashAway
Stephanie has more than 17 years of experience in managing multi-asset portfolios globally for Goldman Sachs as well as for institutional investors and family offices. Her expertise in global macro and quantitative investing has enabled her to effectively manage multi-billion portfolios for her clients. Prior to finance, she began her career at McKinsey & Co. advising companies in the Asia Pacific region.
Stephanie earned her MS in Computer Science (Artificial Intelligence) from Stanford University and BS in Computer Engineering from the University of Michigan.
About StashAway
StashAway is Asia's leading digital wealth manager that aims to empower people to build long-term wealth. StashAway has raised USD 61.4 Million in shareholders' capital in 6 rounds of financing. Our lead investors include Sequoia Capital, Square Peg, the largest venture capital fund in Australia, Eight Roads Ventures, the proprietary investment arm of Fidelity International and Asia Capital & Advisors. StashAway was also awarded a 2020 Technology Pioneer by The World Economic Forum.
StashAway was founded in Singapore in 2016 and is licensed in 5 jurisdictions, including Singapore, Malaysia, MENA, Hong Kong and Thailand.
By registering for this event, you are deemed to have understood and consented to StashAway collecting your personal data that you directly input into the registration forms and contacting you thereafter in relation to our products, services and events. We promise to send only the good stuff. However, if you ever wish to opt-out, you can easily unsubscribe using the Unsubscribe feature included in the emails. If you wish to know more about our Privacy Policy, you can visit our Privacy Policy page where the policy will apply mutatis mutandis to the event that you have registered for.
About SatoshiWomen
SatoshiWomen is a global community that advocates crypto-literacy for women from all walks of life. We support women in getting the same access as men to knowledge, opportunity and resources in order to fully participate in the cryptocurrency sector.
They provide education, access and inspiration so that women from all backgrounds can use cryptocurrencies, blockchains and digital assets to improve their lives and experiences. We empower them to innovate, to find financial freedom, to create wealth and to shape professional fulfilment.
About ConsenSys
ConsenSys is the leading Ethereum software company. They enable developers, enterprises, and people worldwide to build next-generation applications, launch modern financial infrastructure, and access the decentralized web. Their product suite, composed of Infura, Quorum, Truffle, Codefi, MetaMask, and Diligence, serves millions of users, supports billions of blockchain-based queries for clients, and has handled billions of dollars in digital assets. Ethereum is the largest programmable blockchain in the world, leading in business adoption, developer community, and DeFi activity. On this trusted, open source foundation, they are building the digital economy of tomorrow.