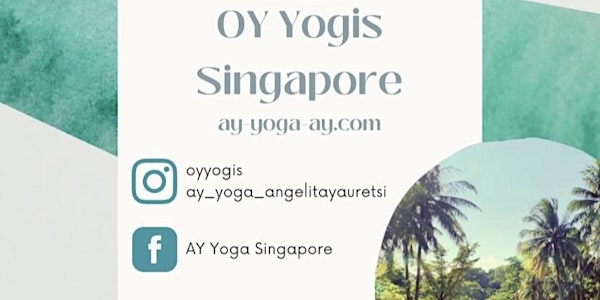 Saturday 8.30 am Feel Good Yoga with Angela AY Yoga at Fort Canning Park
SATURDAY 8.30 AM FEEL GOOD YOGA WITH Angela AT Fort Canning Start your weekend active and energised Saturday: 08.30-09.45 AM
When and where
Location
Fort Canning Park River Valley Road Singapore, 179037 Singapore
About this event
SATURDAY YOGA FOR EVERYBODY WITH ANGELA
Saturday: 08.30-09.45 AM
Fort Canning Park, Battle Visitor Center
Get ready to stretch and strengthen your body.
In this class you will find a broad range of yoga practices, including;
Asanas, or yoga poses, for strength and flexibility, with the benefit of our teachers alignment and anatomical training to keep you safe;
Pranayama, or breathing practices, to energise, calm, de-stress or relax.
Guided meditations to relax, improve focus, reduce anxiety and a host of other benefits.
Laughter, our classes are friendly and fun. We have all been know to collapse in giggles on occasion!
Bring your own yoga mat, water bottle and some moskito repellent.
More info: ay-yoga-ay.com