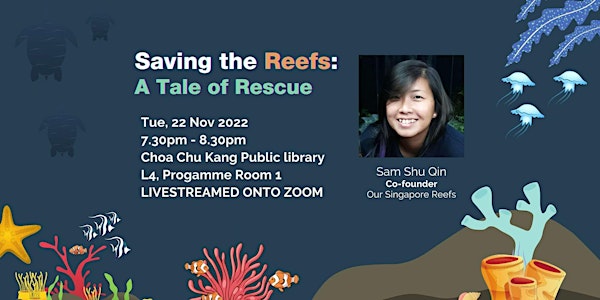 Saving The Reefs: A Tale of Rescue
Get up close and personal with Sam Shu Qin, Co-founder of Our Singapore Reefs she shares the role of youth in sustainability in Singapore.
About this event
NOTE: Registration is only approved if your myLibrary username is verified.
Sometimes, it is not enough to do what is right. While most of the world remain apathetic, the young and bold leaders of tomorrow have risen to the challenge of climate change to create noise and awareness on the need to make lifestyle changes and green choices to combat this very real and pressing issue. Sam Shu Qin is one of the youths, who has devoted her life to the coral reefs and the seas. Hear from her on the role the youth can play in creating a sustainable Singapore from her own experience running Our Singapore Reefs.
About the speaker
Sam Shu Qin is a coral scientist and have been actively involved in restoring coral reefs in Singapore and Southeast Asia. She co-founded Our Singapore Reefs to connect like-minded marine enthusiasts through diving and educational outreach programmes and to raise awareness about marine debrris. With her training i science communication, She hopes to inspire marine stewardship and promote discussions in marine science and conservation through various public engagement activities.