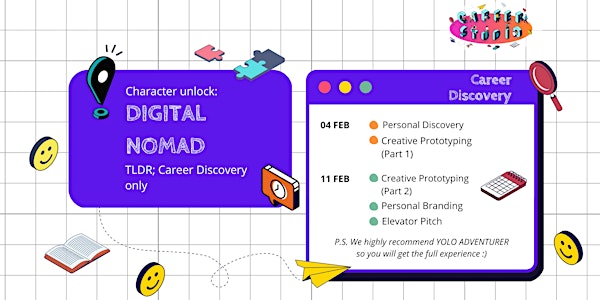 [*SCAPE Career Studio] DIGITAL NOMAD
The Digital Nomad – You're keen to explore what makes you tick, but don't want too much commitment
Date and time
February 4 · 10am - February 11 · 5pm +08
Location
*SCAPE 2 Orchard Link Singapore, 237978 Singapore
About this event
Blur about your career? Have an idea but don't know where to start?
Come join our workshops to bring your ideas to life! We've even got an educator who came from our programme, learnt prototyping and managed to switch to be a UI and UX designer!
Come gain your confidence in the community to get clarity for what's next. No more feeling lost.
---
About This Ticket
Through *SCAPE Career Studio's Career Kickstarter, you'll get a chance to discover your interests and explore options in a guided manner. You can move from feeling stressed, uncertain and unclear to feeling more confident, clear and confident for what's ahead.
What is Included in This Ticket
Attend In-person or virtually
Access to all Career Discovery Playshops
Access to digital learning platform with loads of creative career resources
Dates, Timing and Venue
4 Feb, Saturday, 10am - 3pm | *SCAPE (with online option)
Personal Discovery Workshop
Creative Prototyping Workshop (Part 1)
11 Feb, Saturday, 10am - 5pm | *SCAPE (with online option)
Creative Prototyping Workshop (Part 2)
Personal Branding Workshop
Elevator Pitch Workshop
FAQ
Q: Does the "YOLO Adventurer" or "Digital Nomad" ticket include access to Choose Your Own Adventure?
A: No. You will have to purchase the "Add-on" tickets to attend Choose Your Own Adventure events.
Q: Will there be refunds/make-up sessions in the event that I am unable to turn up?
A: There will be no refunds or make-up sessions.
Do note that there will be a livestream and recorded sessions for all events. You can attend online if you are unable to make it physically.
Q: Can I change my ticket from "YOLO Adventurer" to "Digital Nomad" in the middle of the programme?
A: Unfortunately, we are unable to downgrade tickets but we can upgrade your ticket on a case-by-case basis.
Q: Can I share the "YOLO Adventurer" / "Digital Nomad" ticket with a friend?
A: It is recommended that you attend the programme from start to finish. But please share this programme with your friends so they can sign up themselves!
Q: Can I take part in Fish Tank?
A: No. Only those who've purchased "YOLO Adventurer" tickets and have attended all Career Discovery events will be selected for Fish Tank.
-----------
If you don't try, you'll never know. Come discover and test out your career aspirations here at the *SCAPE Career Studio!
For more info, you can drop us an email at hubquarters@scape.sg.