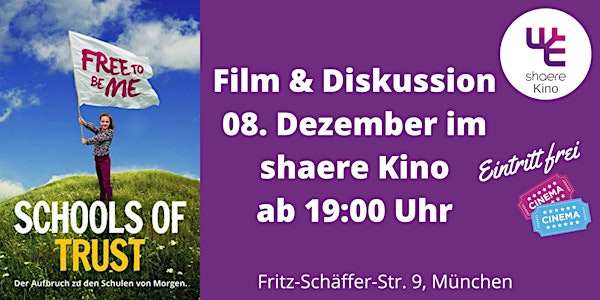 Schools of Trust
Film & Diskussion: 2 junge Männer begeben, sich auf eine Reise mit der Frage: "Gibt es Schulen an denen Kinder gerne lernen?"
When and where
Location
shaere Fritz-Schäffer-Straße 9 81737 München Germany
About this event
Wir zeigen den Film
Schools of Trust - Gibt es Schulen an denen Kinder gerne lernen?
Donnerstag, 08. Dezember ab 19:00 Uhr
kostenfreie Teilnahme, wir freuen uns über Spenden
Mit anschließender Diskussion und Austausch.
Wo? im shaere-kino Neuperlach, Fritz-Schäffer-Str. 9, 81737 München
Zum Inhalt:
Dokumentation über Wege zur Verbesserung des Schulsystems, in dem die Freude am Lernen im Mittelpunkt stehen soll. Die Filmemacher, zwei junge Männer, der eine BWL-Student, der andere Lehrer reisten in sieben Länder auf drei Kontinenten, um alternative Schulen und Projekte zu besuchen.
Ständiger Begleiter sind eine Kamera und ein Koffer voller Fragen:
"Gibt es Schulen an denen Kinder gerne Lernen? Wie würden Lernorte aussehen, an denen die Kinder glücklich sind und an denen sie die Freiheit haben ihre natürliche Neugier ungestört zu entfalten? Was passiert wenn Kindern Raum gelassen wird, sie selbst zu sein?"
Veranstalter:
Bildungs- und Kulturstätte shaere
in Unterstützung von EINE SCHULE FÜR ALLE in Bayern e.V. (www.eine-schule.de)
***
Hier werden regelmäßig Kinovorstellungen stattfinden - vereinzelt wird es auch Sonderveranstaltungen geben. Gezeigt werden Dokumentarfilme, Spielfilme, Experimentalfilme, Kultur- und Lehrfilme. Somit ist für alle etwas dabei: von jung bis alt wird jedes Interesse bedient.
Der Eintritt ist auf Spendenbasis - so kann jeder selbst entscheiden, was er zahlen möchte. Aber ihr könnt auch um den Eintritt würfeln und den Zufall entscheiden lassen. Aus den Einnahmen werden die entstandenen Kosten wie FIlme-Leihgebühren, Personal und Ausstattung des Kinos gedeckt. Eventuelle Überschüsse werden wieder ins shaere investiert. Natürlich gibt es vor Ort auch Popcorn und leckere Snacks aus dem Community Kitchen.
Im Kino selbst ist Platz für 40 Personen. Vor Ort ist freie Platzwahl, aber ihr könnt euch euer Ticket bereits jetzt online sichern: www.eventbrite.com
Ihr habt Vorschläge für das Kino Programm oder wollt euren eigenen Film zeigen? Gerne könnt ihr auch euren privaten Kinoabend bei uns veranstalten. Meldet euch dazu gerne unter kino@shaere.net . Wir freuen uns von euch zu hören.
Links zu mehr Infos - besucht unsere Homepage >>> shaere