Description
WANT A PEACEFUL HOME?
Nobody wants their child to go uncorrected for bad behaviour. However, not many parents take the time and energy to enforce the consequences. So instead, we scream, we get anxious, or we stress out. More often than not, we fail at forcing our child to behave the way we want them to, and our screaming becomes the consequence itself. Everybody knows screaming at your child does not work, but what else can you do?
Going "scream-free" is the solution to having the structured, rewarding home life you've always craved, with respectful kids who are responsible for their own actions.
Join us at the workshop and hear from Halbert Louis, an experienced Family Life Educator, a Registered Counsellor and Certified Life Coach, as he introduces proven principles for overcoming the stress and anxiety of parenting.
Grab this chance to join thousands of other parents in a movement of calmer parenting and a peaceful home is closer than you think.
This workshop is sponsored by the Ministry of Social and Family Development and is held in association with St. James's Place Wealth Management.

Learning Outcomes:
Exploring the effects of screaming & shouting

Introducing Hal Runkel's scream-free parenting model

Becoming a scream-free parent

The 4Cs - maintaining Calmness, stay Connected to them, use Consequence as a tool to manage behaviours, be Consistent in application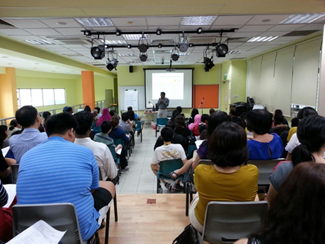 About the Speaker: Halbert Louis
Mr Halbert Louis began his career as a Civil Engineer having graduated from NTU in 1988. After 3 years, he gave up his Engineering career to do community and church work for 20 years. During that time, he had the opportunity to mentor the youth, working adults and married couples. In 2011 he made another career switch and obtained his Master's in Counselling. He then worked with the youth as an ITE life-skills lecturer and served as Family Life Educator.
Since 2012, Halbert started his own company running corporate mental wellness workshops and family-oriented programs. He has conducted numerous parenting workshops and parent-child bonding programs in different schools in Singapore for the past 6 years. In 2014, he obtained his accreditation in Triple P. As a registered counsellor with SAC, he also offers counselling services especially marriage and family counselling.