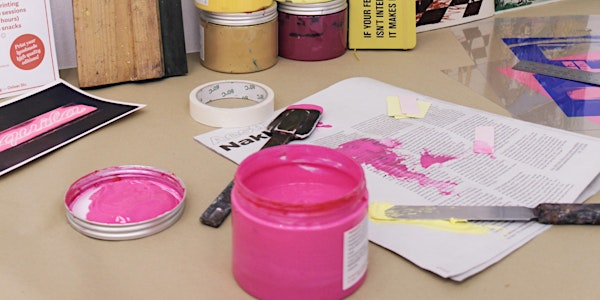 Screen Printing Workshop for Beginners in Wedding
You will learn all the screen-printing process from scratch and `print a small edition of your piece on paper or textile support :)
When and where
Location
Drontheimer Str. 34 Drontheimer Straße 34 13359 Berlin Germany
About this event
Dates flexibility: if the date doesn't suit you we can change it after you book your spot. :)
The 2G+ rule applies in this workshop at the moment.
Remember to bring your mask to wear during the workshop.
_______
You will learn all the screen-printing process from scratch and `print a small edition of your piece on paper or textile support. :)
Screen printing is a manual technique that can be used to transfer an opaque image to any surface trough a mesh, direct ink and pressure.
In this workshop, you will learn the whole screenprinting process, we will:
1. Pre-printing: Select the screen in base on our design and coat it with emulsion.
2. Transfer the design to our screen: Magical stencil process.
3. Select and mix the color.
4. Print! :)
If you are an illustrator, artist, designer... and you want to be able to produce your own high quality prints at home and self-publish in a budget, this is can be the perfect technique for you. After the workshop, there is a possibility of becoming a member of our studio and use our screen-printing facilities in Wedding if you are interested.
You can print on all the surfaces with screen printing, but we will focus on the most populars: textile & paper. You can make T-shirts, Tote bags, postcards, business cards, prints, etc. You have to bring your own surface (paper or textile). I suggest to start with paper, because is cheaper and a good way to practice. We provide inks and all the other necessary material.
Design specifications:
- 1 color / layer design (max size A3)
- 100% Black opaque design (stain or line illustrations, photographies in bitmap, logos,etc) ---> We'll add the color manually in the printing process!
Edition specifications:
- Paper: Max 20 prints (A3 size)
- Textile: Max 10 prints (A3 size)
What you need to bring to the workshop?
- Your design ready, please send it to me before the workshop to make sure is printable.
- The support where you want to print it (T-shirts, paper, tote bags, etc)
Get ready your design and let's print!
ABOUT ME (the teacher)
My name is Carla Cimino, I am a graphic designer and printmaker from Spain. I learnt screen printing in Barcelona while I was studying graphic design and I started to focus on printmaking projects. In 2017, I created the sex-positive brand Badass Prints where I collaborated with international artists and galleries. I screen-print my designs on T-shirts, Hoodies and more products I sell on my shop. I also worked in screen printing commissions for brands as Bumble, Porsche or Sony Music.
If you have any questions about workshops or commissions get in touch via email and I will help you out :)
You can also book another date or an advanced workshop via email: info.badassprints@gmail.com